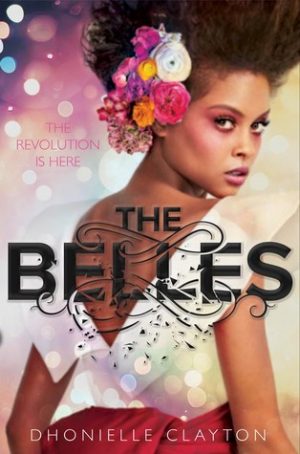 The Belles (The Belles #1)
By:
Dhonielle Clayton
Website:
https://www.dhonielleclayton.com/
Release Date:
February 16th, 2018
Publisher:
Disney-Hyperion
Series:
The Belles
Award:
Locus Award Nominee for Young Adult Book (2019), Goodreads Choice Award Nominee for Young Adult Fantasy & Science Fiction (2018), Lodestar Award Nominee (2019)
Rating:
I was curious about this series as the premise was intriguing. In the world of Orléans the Belles are powerful and beautiful. In a world where people are born gray the Belles can infuse people's appearances with beauty and color. A tweak of the nose here, a bit more color in the cheeks, whatever you need the Belles can get the job done.
Camellia is one of this revered Belle's and as they approach one of the biggest events in their world, the selection of the favorite Belle to reside in the royal court and the assignment of the Belles to the various sections of Orléans. Everyone hopes to be selected as a favorite but when the truth comes out, that the glamour and happiness is as fake as the color in the cheeks of people born gray, Camellia and her sisters, as well as a few outliers, have to make a drastic choice and execute a dangerous plan. Their world is on the line and it's a very ugly battlefield.
Now, I adored this story which was surprising to me. I love dystopian novels and I love fantasy but I wasn't sure if this story, while interesting, would hold my attention. I could not stop reading.
The characters, the magic of the Belle's, the danger and intrigue in this book were so perfectly done. The pace didn't let up and with each new detail about the world surrounding Camellia I was hooked.
Perhaps my favorite thing in this was how there was a saying that echoed The Hunger Games motto of "May the odds be always in your favor." What else could the Belle's say except "May you always find beauty."
If you want a vast cast of characters, an interesting new world that feels so fresh and different from other novels and a new story to fall in love with I suggest you give The Belles a try. It took me by surprise just how well written it was and how the pace kept me up all night.