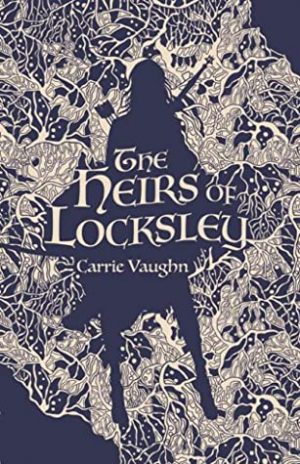 The Heirs of Locksley (The Robin Hood Stories #2)
By:
Carrie Vaughn
Website:
https://www.carrievaughn.com/
Release Date:
August 4th, 2020
Publisher:
Tor.com
Series:
The Robin Hood Stories
Rating:
Book two in this wonderful series made me so happy. I read it in a matter of hours, directly after finishing book one The Ghosts of Sherwood, and I was so pleased by the ending. I wonder (hope, pray) that there will be a book three in this series as we seem to be delving deeper into each of the Locksley children as they grow up.
The children are older now, four years later, with Mary being twenty and wondering where her mysterious betrothed is. While the engagement may not quite be official, as Robin and Marian agreed to let her meet William first before marrying her off, it's been a long time coming for the two to meet and decide if they will in fact be wed. John, meanwhile, is taller, stronger and while still mischievous in some ways, does have a practical head on his shoulders when needed. Eleanor, still brilliant and still without a voice, has learned a lot from watching those around her and her family relies on her as a litmus test for new people.
In this story we learn that King John, who took the phone after his brother King Richard died, has now also passed away and John's son Henry is now on the throne. Henry is young, only thirteen, and surrounded by old advisors from his father's years and not really allowed to be a power king or a child. Robin encourages his kids to bend the knee to Henry, for the sake of peace, and to gain his favor so that the truce between the house of Locksley and the crown may remain.
Without wanting to give too much away we see a lot of shenanigans, an archery contest and we finally meet William de Ros and see if he and Mary will be a match.
The characters are still fun, vibrant and completely relatable. I actually enjoyed most of the new characters we were introduced to and Vaughn's depiction of how shallow and deceptive others can be gives me hope that she will continue on with this series and let us see more of what becomes of John and Eleanor.
Thank you to NetGalley, Carrie Vaughn and Tor.com for allowing me a copy of this ARC!