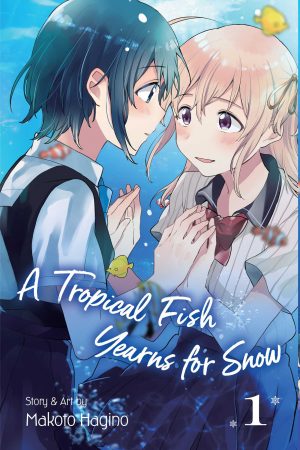 A Tropical Fish Yearns for Snow, Vol. 1
By:
Makoto Hagino
Illustrator:
Makoto Hagino; Eve Grandt (touch-up and lettering)
Translator:
John Werry
Release Date:
November 12, 2019
Publisher:
VIZ Media LLC
Series:
A Tropical Fish Yearns for Snow #1
Received From:
Publisher
(All reviews are our own, honest opinions.)
Rating:
A Tropical Fish Yearns for Snow, Vol. 1 by Makoto Hagino is a sweet yuri slice-of-life manga. Amano Konatsu is the new girl in town, living with her aunt while her father works overseas. The first day in her new town, Amano stumbles onto an event at her new school held by a club that runs a small aquarium. Koyuki Honami is the head of the club, and Amano can't help but be instantly drawn to her and her fascinating club.
This is a slow paced yuri slice of life manga that follows Amano as she begins a new school, makes new friends, joins a club, and starts to fall for her club president. The majority of each chapter is set in Amano's new school, either during classes or after school during club activities. However, we do see more of the new town Amano has moved to in later chapters.
Amano and Koyuki have certain personality traits that overlaps—both are fairly quiet and shy, for example. How these aspects of their personalities shape their actions can be different. Certain situations are handled somewhat differently between the pair, though there are time they are very, very similar.
As one might expect with two shy characters, this is definitely a slow burn romance. Their relationship is sweet and wonderful to watch. How exactly their friendship and blossoming feelings play out within the next few volumes will be wonderful to watch. If a slow burn yuri manga is something you're looking for, A Tropical Fish Yearns for Snow, Vol. 1 by Makoto Hagino is something you'll want to check out.