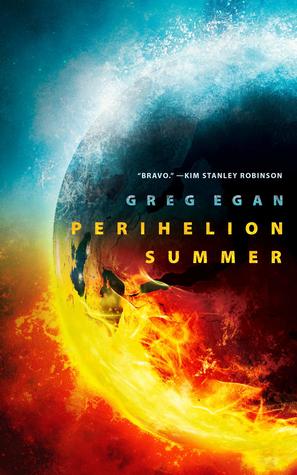 Perihelion Summer
By:
Greg Egan
Release Date:
April 19, 2019
Publisher:
Tor.com
Rating:
Greg Egan's Perihelion Summer is a science fiction novella a bit different from his other works. This past Hugo and John W Campbell Memorial Award winner usually writes in hard science fiction, but this novella focuses a bit more on events without necessarily going as deeply into the science behind them.
Taraxippus, a black hole, is heading towards our solar system. While scientists are largely in agreement on what will happen, the general populace is at odds on proper actions. Protagonist Matt boards Mandjet, a self-sustaining aquaculture rig. As Matt sits out the event off-shore, the world around him is forever changed.
With climate change, horrendous fires raging across the globe, and ferocious flooding recently, this is a story that is rather prescient in some aspects. While the science is rather sure-footed, the public's reaction is varied. People don't want to leave their homes, or even believe things will be as bad as their loved ones claim. What evolves is a tale of humans simply trying to survive in an ever more hostile world.
The story is divided into the parts—what happens when Taraxippus comes closer, what happens soon afterwards, and how people try to survive following this. Jumping forward through time allows readers to see a broader scope of actions versus consequences along with how humanity as a whole copes with the situation.
However, I didn't always have much of a vested interest in specific characters despite wanting to know what happened next to the world. Matt wasn't as gripping a character as he could have been until the end of the novella.
In many ways, Perihelion Summer gets in its own way while telling the story. This can be seen during one of the last arcs in particular. The story builds up towards a more exciting conclusion, yet the tension and excitement built up isn't fully delivered. The protagonist's actions become rather mute, and any action dies before it begins. It is more a tale of things happening to people than of people reacting to situations.
Yet, this is also part of the point. The powerlessness of humans in the face of catastrophe is something discussed often in this novella, and is a discussion worth having. Yet, the need to root for a character, for hope, for something can leave the reader frustrated.
Perihelion Summer by Greg Egan is a science fictional tale that feels all too real. Yet, it is also one that feels just a bit unsatisfactory in execution.