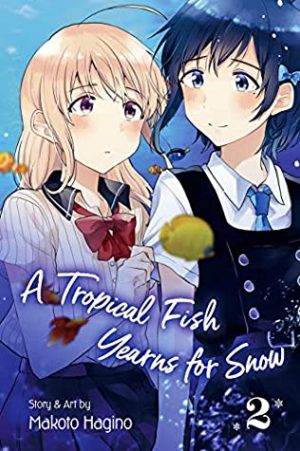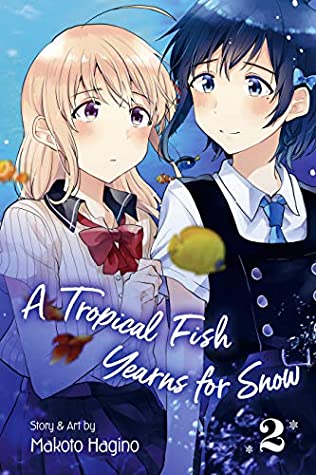 A Tropical Fish Yearns for Snow, Vol. 2
By:
Makoto Hagino
Illustrator:
Makoto Hagino (Illustrations); Eve Grandt (touch-up & lettering)
Translator:
John Werry
Release Date:
February 11, 2020
Publisher:
Viz Media
Series:
A Tropical Fish Yearns for Snow #2
Received From:
Publisher
(All reviews are our own, honest opinions.)
Rating:
A lovely yuri manga by Makoto Hagino, A Tropical Fish Yearns for Snow, Vol. 2 is a slow-burn contemporary romance that's sure to give you the warm fuzzies. This volume follows the 2019 English release of volume 1, and the original Japanese release in 2017 by Kadokawa.
The manga tells the story of Amano and Koyuki, two girls who make up the local high schools Aquarium Club. On Amano's first day at her new school, she stumbles onto the Aquarium Club and its sole member, Koyuki. She quickly joins, and the two become friends. Feelings begin to bloom as the story continues, with Koyuki finally realizing that Amano is special to her and that she might have feelings for her.
Volume 2 focuses more on Koyuki as opposed to volume 1's focus on Amano. Koyuki has a lot of feelings, most of them all jumbled up. Her quiet nature and the newness of all of her feelings makes her go quiet and stew in silence with her questions and emotions. However, this doesn't go on for long, as Koyuki has a much need 'please learn to use your words' conversation.
This is something this series excels in. Situations that might be commonly used in the genre are used extremely realistically. Koyuki truly feels like a shy teenager learning how to communicate properly and voice her worries and opinions. Events never drag on too long, with characters learning lessons and moving forward, albeit slowly. After all, this is a slow burn romance. Time is taken to linger in the sweetness of a new romance.
Koyuki's father is also in this volume and features rather prominently. Again, this is a strength of the series, with parents being involved in their children's lives, sometimes meddling a little too much and sometimes giving the push needed for their kids to move forward. Koyuki's father is truly Best Dad (lovingly dubbed by my housemate who was reading over my shoulder). Amano's father also appears in later chapters for the first time.
A Tropical Fish Yearns for Snow, Vol. 2 by Makoto Hagino is a truly sweet romance featuring a f/f couple. A slow, character driven tale, it will certainly need more volumes to get to a more serious relationship between the two. But sometimes it's the journey and not the destination. I would absolutely suggest picking up this series, especially if you need something warm and fluffy to read in trying times.