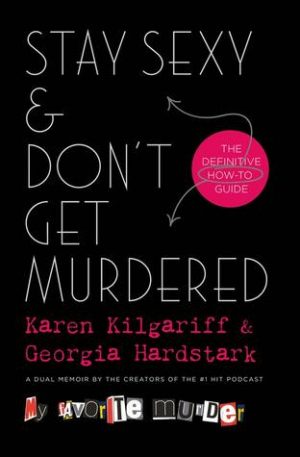 Stay Sexy & Don't Get Murdered: The Definitive How-To Guide
By:
Karen Kilgariff, Georgia Hardstark
Website:
https://myfavoritemurder.com/
Release Date:
May 28th, 2019
Publisher:
Forge Books
Rating:
I am the first person to admit that my obsession with true crime is a bit extreme and that my love of all things mystery, murder and crime is probably not the best thing for my psyche at time but, hey, it's my thing. Apparently it is many other people's "thing" as well seeing as how popular the podcast by the two authors has become and how they published a book about their lives. This isn't the normal book you'll see on our blog but as it was one of my most looked forward to and important reads of 2019 here I am reviewing it. Okay? Let's dive in.
This book is a dual memoir between Karen Kilgariff and Georgia Hardstark, the hosts of my favorite podcast My Favorite Murder. In case you can't tell by the title of the podcast this is a true crime murder podcast. What you can't tell from the title alone is that Karen and Georgia blend their love of true crime with their other love and coping mechanism, comedy. A strange mix indeed but as Karen says at the start of each live performance "If you don't like it you can get the f*** out."
A little brash? Maybe. But ya know what, the combination of two friends talking about cases that interest them, their humor (usually self-deprecating in nature and never about the victims of the crimes they discuss) is a good way to break up the monotony of the day to day world.
While this book doesn't get into the true crime aspect like their podcast, except to talk about their love of it, we do get to learn more about these two women who are so open and honest, both in podcast and book form, that you feel as though you know them and that they understand you.
The duo touch on a variety of topics in their book (depression, anxiety, loss, eating disorders and addiction) but they also impart some knowledge by telling us of times they messed up. Their vulnerability in this book should be applauded and I can't help but love them all the more for it.
Signing off on this I'll finish the review how these two finish each episode; Stay Sexy & Don't Get Murdered!