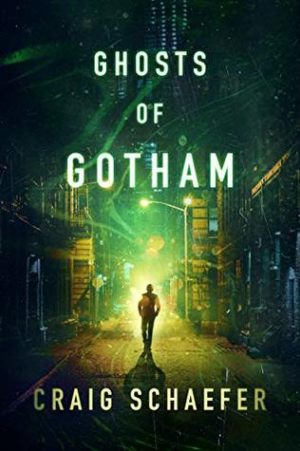 Ghosts of Gotham
By:
Craig Schaefer
Website:
http://craig-schaefer-v2.squarespace.com/
Release Date:
April 9th, 2019
Publisher:
47 North
Series:
The Secret History
Rating:
Craig Schaefer, you have done it again.
For those of you who don't know, I have a slight obsession with Craig Schaefer and all his works. If you're wondering why that is you can check out my reviews for his other works (the Daniel Faust Series and the Harmony Black series).
Ghosts of Gotham is, according to Schaefer's website, the start of a new saga that runs in a new continuity separate from the universe we lived in with Daniel Faust and Harmony Black. While I'm disappointed that we won't see these characters interact with my favorites from his other works I can accept this new world as it was just as interesting, dangerous and exciting as I've come to expect from Schaefer.
Lionel Page is a reporter that thrives on debunking hoaxes and charlatans, especially those claiming to have some supernatural ties. With his own fame growing as he builds a new life for himself Page is knocked off track when a young reporter challenges him stating she knows about his real past and will expose him. Determined to not let that happen Lionel is all to ready to comply with the request of Regina Dunkle; find a rare Poe manuscript, authenticate it and bring it to her and she will erase all records of Lionel's past.
We see most of the story from Lionel's third-person perspective but we also get a few chapters from the side of Madison Hannah, a young actress that connects him to the secret history and underground of New York City.
I adored these new characters and nothing has changed with how well Schaefer crafts his story and uses everything around him to drive the intrigue and plot. I'm interested to see where this new saga takes us so, for now, I'm just waiting for more.
And, because I'm obsessed with the quick wit of Schaefer's characters I'll leave you with this quote from the book but I'm not going to tell you who is speaking the words. That's for you to find out.
"Oh my God, you're adorable. It's like a little lightbulb just went on over your head. Yes. I'm a witch, that's a demigoddess, it's all true, and we are leaving. Now, okay?"