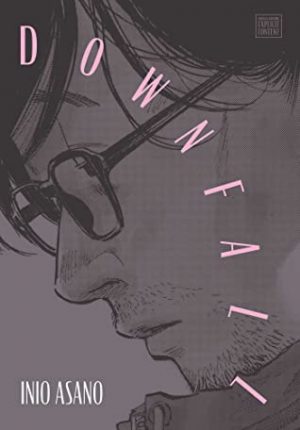 Downfall
By:
Inio Asano
Illustrator:
Inio Asano
Translator:
Jocelyn Allen
Release Date:
February 18, 2020`
Publisher:
VIZ Media LLC
Received From:
Publisher
(All reviews are our own, honest opinions.)
Rating:
Where do you go after you finish the greatest work of your life? What lies past the completion of your life's work? How do you find it? How do you live up to the world's expectations, let alone your own? These are the questions poised within Downfall by Inio Asano, the Eisner nominated author of the series Solanin and Goodnight Punpun. This is a single-volume manga as opposed to the much more common series length manga works.
Downfall is a single volume manga telling the story of Kaoru Fukazawa, a manga artist who has recently finished a very successful manga series that reached wide acclaim. However, Fukazawa is exhausted, jaded, disenchanted by the publishing industry, and has a certain amount of self-loathing. All of these feed into one other, leaving Fukazawa an embittered person with a wife and assistants that do what they can to stay out of his way.
The plot is focused on Fukazawa and what he does in the wake of his manga series ending. He attaches himself to people who hold no true bonds to him. He can't bring himself to create the manga that he once loved. Whatever love for his wife had once been present is now gone. Everyone in Fukazawa's life seems like just another person who doesn't believe in him and has let him down, even if that isn't always the full story.
By no means is Fukazawa a likeable person. He makes one poor decision after another, hurting others (sometimes purposefully), and making excuses for himself. However, he isn't a hate-able character. There is a certain amount of pity which can certainly be granted to him. The immense pressure of producing another success – both from his fans and his editor – is too much for him to handle. His own insecurities and self-loathing fuel Fukazawa's descent, and while certainly don't excuse his awful behavior by any means, make the tale a powerful and moving one nonetheless.
It has been stated by both the author, Inio Asano, and translator, Jocelyn Allen, that Fukazawa and Downfall's circumstanced do draw quite a bit from Asano himself and portions of his life. To me, this makes the tale all the more heartbreaking.
The art is, as with all of Asano's work, absolutely gorgeous. Such careful attention is paid to character's faces and body language. It's always a pleasure to get lost in Asano's artwork, even if some of the themes of said work are a little on the depressing side.
Downfall by Inio Asano is a powerful and moving story even as it is dark and depressing. It is a story worth reading, one that stays long after you finish the last page.