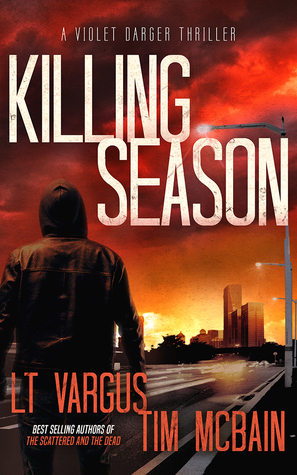 Killing Season (Violet Darger #2)
By:
L.T. Vargus & Tim McBain
Website:
https://ltvargus.com/
Release Date:
July 31st, 2017
Publisher:
Smarmy Press
Series:
Violet Darger
Rating:
On to the official book two in this series, and not just a novella. I'm very glad this was a full-fledged novel as I don't think this story could have been accomplished within a novella.
In Atlanta there is a serial killer hunting people. Not just stalking and killing, but actually hunting. Taking shots carefully the killer first takes out eight victims and causes a massive pileup on the highway. The following morning a grocery store is attacked. When Violet and Loshak finally get there the city is in a panic and it's time for the hunters to be hunted.
Violet and Loshak do a fantastic job in this book as they grow as partners. I also was so taken in by the surprise plot twists, the idenity of the gunman and a host of other chaotic moments throughout the book. I will say that even though the killings in this book are horrible it felt easier to swallow than the previous ones, perhaps because this serial killer does it at a longer distance, rather that close-up and personal. Learning about the killer was also interesting and seeing things through his eyes felt like I could swallow this case a bit easier than the others. (Reminder for anyone who hasn't read the previous books in the sereis; book one focuses on body mutilation of young women and the novella focuses on a family annihilator. Pick your poison.)
I will also say that if you wanted to read only one Violet Darger book this may be the one to pick. While there are some call backs to the previous works here it isn't impossible to follow along without any of the previous context. Still, I prefer having all the context so I'd still suggest reading the series.