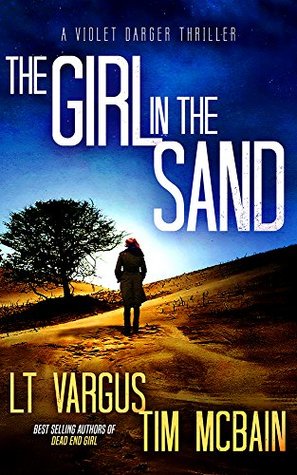 The Girl in the Sand (Violet Darger #3)
By:
L.T. Vargus & Tim McBain
Website:
https://ltvargus.com/
Release Date:
March 19th, 2018
Publisher:
Smarmy Press
Series:
Violet Darger
Rating:
When bodies are found burned in a sedan Violet and Loshak go out to Las Vegas to try and help catch the killer. But when all signs point to a serial killer with a grudge again Violet things go from bad to worse.
First, let me just say the tension and action in this book was superb. I really enjoyed the pace in this book and, in looking back at my kindle edition notes I realized just how frantic I was as I was reading because I have fewer notes and a lot more curse words.
Second, the characters are just getting better. Sometime Violet and Loshak annoy me but that just means they aren't perfect. They both have moments of stupidity and there are parts of this story I couldn't believe ever happening in real life so it's good it was written in a fictional tale. Violet continues to charge head first into danger and while she's getting better at being one step a head of the criminals she's chasing she is still making mistakes that could've been prevented. As with any series I don't want to give anything away but just know that in this book character death seems both possible and likely so be prepared to be on the edge of your seat while reading!
All in all I was glad I read book number three but I do feel myself pulling away from Violet lately. I skipped the novella in between this time but am planning to return when I want another dose of Violet and Loshak.