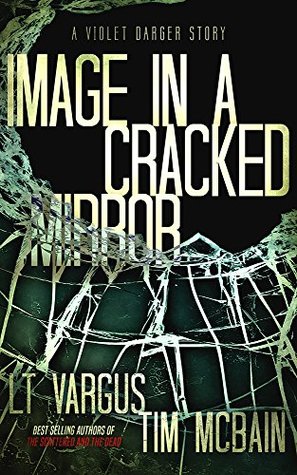 Image in a Cracked Mirror (Violet Darger #1.5)
By:
L.T. Vargus & Tim McBain
Website:
https://ltvargus.com/
Release Date:
June 8th, 2017
Publisher:
Smarmy Press
Series:
Violet Darger
Rating:
When I saw that there was a novella between book one and two of the series I was curious as to why it was just a novella and not a full blown book. However, I agree with the decision made by the authors to keep this short as the case, while disturbing, wasn't too complicated and it gave us further insight into Violet and Loshak.
We pick up a few months after book one and Loshak is heading to Washington state to look at a gruesome case. It's clear that Loshak wants to mentor Violet and help her career so Violet goes along. I loved to see their relationship grow piece by piece and I appreciated that Violet never backed down to Loshak, despite him being a more senior agent and veteran with experience. Loshak, to his credit, is learning to trust his new pseudo-partner while also being sure she avoids certain pitfalls and errors.
Between the death of the entire family (including children) and the broken mirrors throughout the house I was intrigued about the psyche of the killer and I wasn't that disappointed by the result, even if the solve was quick and the answers came out fast once the killer was caught. Still, the tension and build up to that point, until we know for sure it's the right guy, had me flipping through this novella quickly.