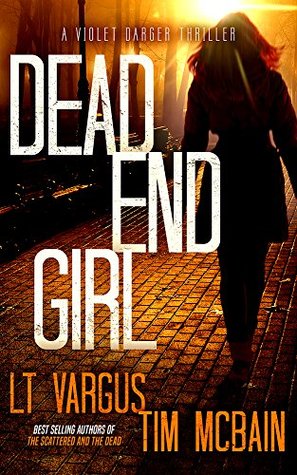 Dead End Girl (Violet Darger #1)
By:
L.T. Vargus & Tim McBain
Website:
https://ltvargus.com/
Release Date:
April 12th, 2017
Publisher:
Smarmy Press
Series:
Violet Darger
Rating:
The upside of having a Kindle is when you are given recommendations for books you might like. Well, I definitely liked this first book in the Violet Darger series and I dove straight in to the entire series, enjoying my visit into yet another twisted mystery.
Now, this book and series is far from perfect. However, I will say I enjoyed it due to the intriguing background of Violet, Loshak and everyone else we run across. I was, as always, frustrated with the coy "oh look, I have a secret but I'm not talking about it yet," internal monologue that happens in these kinds of books but still I'm glad I stuck through it.
Violet is a new agent in the FBI, having left her role in Victim Assistance to become a field agent. She is smart, quick and determined so it was easy to cheer for her. She is pared with Agent Loshak as they hunt for a killer that is dismembering bodies and leaving them all over Ohio. We see moments of humanity and imperfection from each of the characters and I liked that. Perfect characters are boring after all.
There isn't too much I can say about the book without giving a spoiler. Was it perfect? No. Was it horrible? No. Would I recommend it? Yes. Just know that there is a lot of background information and "filler" as the authors describe things in extreme detail. For me it kind of detracted from the book but it wasn't enough to make me put it down as I was already invested in the story.