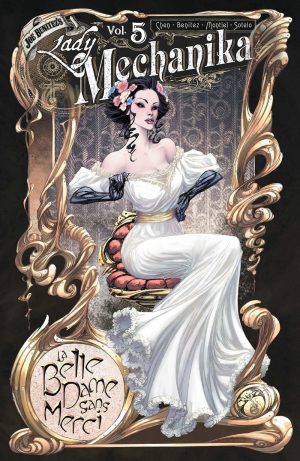 Lady Mechanika, Vol. 5: La Belle Dame Sans Merci
By:
Joe Benitez, M. M. Chen
Illustrator:
Martin Montiel, Beth Sotelo
Release Date:
May 14, 2019
Publisher:
Benitez Productions
Series:
Lady Mechanika
Received From:
Publisher
(All reviews are our own, honest opinions.)
Rating:
We find ourselves back in Lady Mechanika's steampunk London once again. Finally, our protagonist's creator seems to be coming out of the shadows, but all is not well with inventor Archibald Lewis. And so kicks off Lady Mechanika, Volume 5: La Belle Dame Sans Merci written by M. M. Chen and Joe Benitez, and with art by Martin Montiel and Beth Sotelo.
This volume focuses more on character development than some of the previous volumes. While Lady Mechanika's action packed heroics do come into play, it is the mystery and characters that take center stage. Two mysteries begin at once. First, a mysterious mechanical arm is found in an abandoned house, one that is suspiciously similar to her own and has gained the interest of her long-time enemy Blackwell. The second mystery involves Mr. Archibald Lewis. The resident inventor and loveable sidekick of Mechanika has fallen into a deep depression—and into alcoholism—after the events of Volume 4. The mysterious widow Leanna Shi both captures his heart and lifts him out of despair seemingly overnight. Despite her friend's happiness, she can't help but suspect foul play.
The less action packed nature of the volume does mean that a few of the pages are a bit static. There is a good deal of discussion in Volume 5, and all of it meaningful. This is a volume of character growth. Lady Mechanika is faced with a problem – follow the path she always does, the one towards knowledge of who she is, where she came from, and who made her this way, or help a friend in need.
That's not to say Mechanika's assistance is wanted or even that her arguments are correct. This is where this volume truly shines. Both Mechanika and Lewis's arguments make a certain kind of sense. It is very easy to sympathize with both characters, and equally easy to see where one completely misunderstands—or refuses to understand—the other.
The art is ever beautiful. Palettes change in different sections. Sometimes the browns and grays of the traditionally steampunk world are shown. Other times bright blues and other colors overtake the page. There are some truly gorgeous two page spreads in this volume. I must commend the artists and colorists for this volume.
I did feel as if the volume could have used just a few more pages to flesh out the changing dynamics between the characters and how they have changed throughout the volume. However, I am quite satisfied, and look forward to the next volume in the series.
Lady Mechanika, Volume 5: La Belle Dame Sans Merci by Joe Benitez, M. M. Chen, Martin Montiel, and Beth Sotelo is a fantastic installment in the Lady Mechanika series. This volume in particular is best for those who already have read at least a volume or two of the series.
If interested, my thoughts on previous volumes in the series can be found here:
Lady Mechanika, Vol. 1: Mystery of the Mechanical Corpse
Lady Mechanika, Vol. 2: The Tablet of Destinies
Lady Mechanika, Vol. 3: The Lost Boys of West Abbey
Lady Mechanika: La Dame de la Muerta (Standalone)
Lady Mechanika, Vol. 4: The Clockwork Assassin