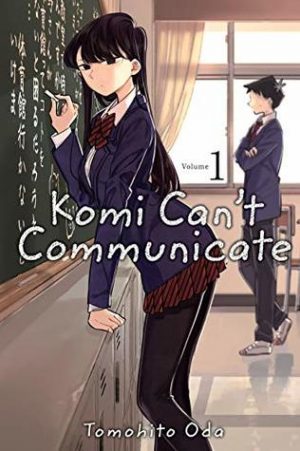 Komi Can't Communicate, Vol. 1
By:
Tomohito Oda
Illustrator:
Tomohito Oda
Release Date:
June 11, 2019
Publisher:
VIZ Media LLC
Series:
Komi Can't Communicate #1
Received From:
Publisher
(All reviews are our own, honest opinions.)
Rating:
Komi Can't Communicate, Vol. 1 by Tomohito Oda is a delightful manga that begins on the first day of high school. It's a story of friendship, teenage awkwardness, and of learning to overcome the fear of communicating with others.
The manga's protagonist is high school student Tadano. He's a little quiet and has few friends, but that's alright. Then he meet's Komi – a legendary girl at school who's beauty and aloofness makes her the ultimate quiet but popular girl. But Tadano quickly realizes that she isn't aloof, she's just awkward, terrified of talking to other people, and lonely. Now, Tadano is determined to help Komi on her quest to make exactly 100 friends.
Komi Can't Communicate tows an interesting line. Some chapters are funny, filled with high school gags and the sort of playing up of personalities that one would expect. Other parts hit very tender, very moving moments which are quite memorable. On the other hand, there were times this created an almost sort of dissonance.
Yet, the manga remains quite intriguing. There's something lovely about a slightly awkward, slightly shy boy coming out of his cocoon in order to try to and help someone who's even more awkward and shy than him. It's touching and heartwarming, even as the mishaps and misunderstandings multiply. There's something quite special at the heart of it, and I cannot wait to continue reading.
The art is both beautiful and versital. This can be most easily seen in how Komi is portrayed. The style she's drawn in can vary very widely depending on whose viewpoint we see her from – the extremely detailed beautiful queen of the school versus the more cartoonish wide-eyed, terrified girl shaking in her boots.
Komi Can't Communicate, Vol. 1 by Tomohito Oda is as humorous as it is wonderfully touching. This is certainly a manga worth picking up.