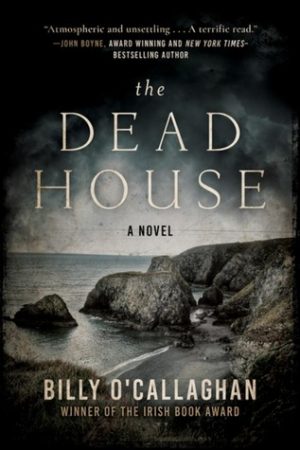 The Dead House
By:
Billy O'Callaghan
Release Date:
May 1, 2018
Publisher:
Arcade/Skyhorse Publishing
Rating:
There is nothing quite like a good ghost story. I always seem to stumble upon these, and I am very happy to say that this book was quite the happy accident. This was a last minute pick up at the library, a book that caught my eye on the way to check out a small pile of books. The Dead House by Billy O'Callaghan is a beautifully written ghost story that will stay with you long after reading.
The story is told in first person from the point of view of art dealer Mike Simmons. One of the artists whose work he sells, Maggie, has just bought a house along the Irish coast. This the perfect place to get away and paint, a place for her to heal mentally after her last boyfriend put her in the hospital. But Mike thinks the isolation will do more harm than good. There is something sinister about the coast, and a housewarming get together with a handful of friends takes a sinister turn.
At first, this seems like a regular, contemporary story. We learn of Mike, his work, and the young artist whose work struck him the first time he saw it. Mike and Maggie form a strong friendship, with Mike watching over Maggie like an older brother, trying to support her mentally and financially through all of her hardships. I really liked their relationship. Sometimes a strict work relationship, sometimes friends, it was very refreshing to see. Perhaps it's simply the books I've been reading of late, but it isn't very often we see a strong male/female friendship in novels and this was a very refreshing change.
Overall, the story begins very normally, if serious and a little darker in tone. It is this normalcy that makes the horror aspects of the novel hit all the stronger. The fleeting glimpse of a girl on the rocks near the sea is incredibly unsettling despite the characters finding it thoroughly explainable. The cottage and the darkness that lurks so close by also hits much strong than other, similar tales.
This book honestly scared me. Of course, it couldn't help that my husband realized I was reading a ghost story and kept turning out all the lights in an effort to frighten me further. If you like ghost stories, this book will absolute scratch that itch. There is truly nothing like a good Irish ghost story, and The Dead House no exception.
The ending is wrapped up very well, providing the reader with enough answers for closure while leaving others open ended. That feeling of normalcy returns. The struggles of everyday life and the passing of time make that terrifying night at the cottage by the sea seem like the distant past, that the things which occurred during that time perhaps remembered wrongly. And, once again, the horror aspect hits that much harder after this established, very normal life is discussed.
The prose in this novel is utterly beautiful. The author certainly has a way with words, and I will absolutely be checking out the short fiction he's written. This book is on the shorter side, coming in at just over 200 pages. It is very readable, a perfect one or two sitting read.
The Dead House by Billy O'Callighan is a beautiful novel about friendship, healing, isolation, and the darker places of the past. If you like ghost stories, horror, or shorter novels I would highly recommend giving this book a read.