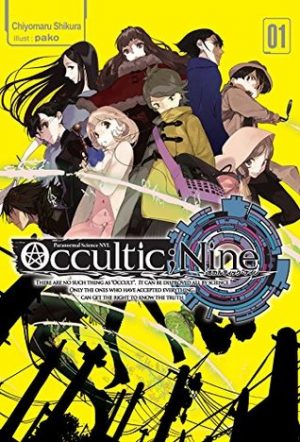 Occultic;Nine Vol. 1
By:
Chiyomaru Shikura
Illustrator:
pako
Translator:
Adam Lensenmayer
Release Date:
December 3, 2016 (ebook J-Novel Club edition); July 3, 2017 (printed Seven Seas edition); August 22, 2014 (original edition)
Publisher:
J-Novel Club; Seven Seas
Series:
Occultic;Nine
Received From:
Publisher
(All reviews are our own, honest opinions.)
Rating:
The light novel Occultic;Nine Vol. 1 by Chiyomaru Shikura is a story about the occult, urban legends, and belief versus science and cold facts. Half a dozen very different people's lives begin to intertwine in different, unexpected ways. All the while, there is a question that begs to be answered – is the occult real, and can science prove its existence?
The narrative follows several characters, all very different and from different walks of life – a teenage psychic with an online show, an anti-occult blog runner, the owner of a shop that specializes in curses, and a scientist trying to prove the soul is real, among others. Each chapter is told from a different character's point of view, the narrative jumping from one person to another as the story unfolds. At first, the only connection between these characters is the fact that they all live or work in roughly the same area, and they are all somehow connected to the occult. These seemingly separate narratives slowly begin to entwine. Stakes are raised, slowly at first but with a frantic, panicked state towards the end of the volume, resulting in a truly suspenseful cliffhanger of a conclusion.
Each character's voice is incredibly distinct. Even without the identifying information at the opening of each chapter it is quite easy to differentiate one character from another. This is partially due to the following of conventional character tropes, at least to a point. Gamon is the pervy teenage boy, Ryotasu is a bit of an airhead with a large chest. But if these characters follow the sort of conventions we expect, the plot certainly doesn't. Some of the characters I liked more than others, which is to be expected. Gamon I found annoying, especially at first. But as the story progresses and we are able to see him through the eyes of other characters, I didn't find myself feeling quite the same way anymore. If Gamon rubs you the wrong way, stick the first chapter out. There are a lot of other voices within this light novel, and you won't be hearing solely from this character.
Much of the first part of the book is devoted to setting the stage. We meet one character after another, establishing their personalities, backgrounds, and stances on the occult. Whispers of larger happenings are also introduced – 200 people have drowned in a certain lake, for example, and no one knows why. The sort of urban legends every city has come up with more frequency, and the unexplainable begins to occur. These odd happenings begin having a more direct effect on the characters, and enter the narrative in a bit more direct way.
It is towards the second half of the novel that the real plot begins to form. Character's lives between to intertwine in interesting, if foreseeable, ways. Stakes rise, slowly at first, but with growing intensity. By the end it is a truly suspenseful read, one that had be on the edge of my seat and very thankful I already had the second the volume.
I think it's important to note that this light novel is written by the creator of Steins;Gate. It is easy to see the plot turning into the sort of large, sweeping thing that Steins;Gate is. However, this translates a bit rockily into a light novel format, something the author himself admits in an afterword. Much of the first part of the book is devoted to setting up characters and plot, and the ending has one of the most intense cliffhangers I've come across in quite some time. This is a very good story, one I enjoyed immensely, but the story arc doesn't conclude in one volume, as many light novels do. Readers should be prepared to purchase or borrow a copy of the second volume upon finishing the first (as long as you've been enjoying the story, that is).
I would highly recommend picking up a copy of Occultic;Nine Vol 1 by Chiyomaru Shikura. I truly loved this light novel. It was a 'stay up until 4am so I can finish this' read of the sort I haven't come across in some time. I've already moved on to the second volume. I cannot wait to see where the story will take me.