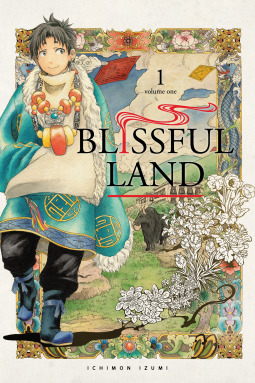 Blissful Land, Vol. 1
By:
Ichimon Izumi
Illustrator:
Ichimon Izumi; Carl Vanstiphoutl (Lettering)
Translator:
Christine Dashiell
Release Date:
November 27, 2018
Publisher:
Kodansha Comics
Series:
Blissful Land
Received From:
Publisher
(All reviews are our own, honest opinions.)
Rating:
The Blissful Land, Vol. 1 by Ichimon Izumi is a very slow, lovely slice of life manga centered around a 13-year-old boy, Khang Zhipa, who is apprenticed to his father, the town's doctor. It is a sweet, slow manga that is more iyashiki than slice of life. Iyashikei, for those who are unaware, are very slow manga that focus on the everyday activities of people, the tiny, happy moments in life, and nature as a calming, healing read. The emotional and plot driven stakes are virtually nonexistent, instead presenting the reading with a very calm, mellow story.
Blissful Land, Vol. 1 introduces Khang Zhipa, a 13-year-old boy who is apprenticed to his father, the town doctor. Khang assists his father in healing the town's people of various illnesses, traverses the woods for medicinal herbs, and assists his mother in the kitchen when needed. One day a travelling merchant arrives in town with his daughter, Moshi Rati, who is to marry Khang.
What follows is a slow story of Khang and his fiancé getting to know one another. It's a story about family, friendship, and budding love. It's slow and sweet. The stakes aren't very high, but they don't need to be for this sort of story. Instead, the reader is immersed in a world very different from our own. We are invested in this young family and the everyday issues they face.
There isn't much more to say about this title as plot and character development are secondary to the everyday activities of Khang's family and creating a warm, happy feeling in your chest. And that's okay. The manga does exactly what it sets out to do.
The art in this manga was quite lovely. The village where Khang and his family live is idyllic, with a quiet beauty you never tire to look at.
If you like slow, sweet stories this is absolutely a manga you want to pick up. I quite enjoyed reading The Blissful Land, Vol. 1 by Ichimon Izumi. It was the perfect manga to pick up between denser reads, and I'm looking forward to further volumes in the series.