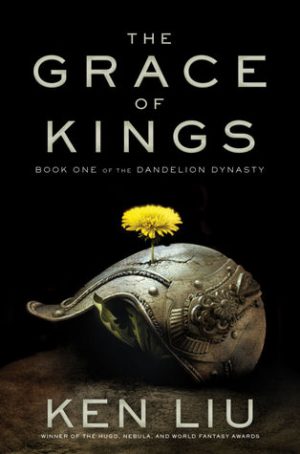 The Grace of Kings
By:
Ken Liu
Website:
http://kenliu.name/
Release Date:
April 7, 2015
Publisher:
Simon & Schuster
Series:
The Dandelion Dynasty, Book #1
Award:
Nebula Award Nominee for Best Novel (2015), Locus Award for Best First Novel (2016)
Rating:
The Grace of Kings by Ken Liu is the start to an epic fantasy series set in an Asian inspired world steeped in political upheaval. This first volume in the Dandelion Dynasty series is filled with memorable characters and gorgeous settings, and is the perfect book for anyone looking for the next long saga about a fantasy world.
The world-building here is extraordinarily well planned. Never does the story fall into the standard pitfalls of epic fantasy – there's no info-dumping to be found here. Instead, the story sprawls itself out along the streets of struggling cities, of people yearning for freedom, and the hilly wilderness that captures the imagination. Each place feels real – fully realized and very alive.
The cast here is very, very large. Several individuals are followed more closely than others, but this is a story of love and war. Many people weave in and out of the pages, some staying for a long time and others falling in the line of duty. Some characters – some who are unequivocally main characters – receive character development at a slow pace. In some places I found it frustratingly slow, but the characters do change and grow, even if they need to be slapped upside the head by their friends for it to happen. There is also a stark difference in the number of men versus women in the story. Of course, this is a patriarchal society at war. It makes sense for there to be few women in the meat of the story. Still, I found myself wishing there were a few more included from time to time nonetheless.
I do have to admit that thing which kept me reading the longest was the sheer beauty of the prose. Ken Liu's translation work has always been something I've admired, and his own novels have not disappointed. If you're looking for a hefty series to sink your teeth into, I highly recommend picking up a copy of The Grace of Kings by Ken Liu, the first book in The Dandelion Dynasty series.