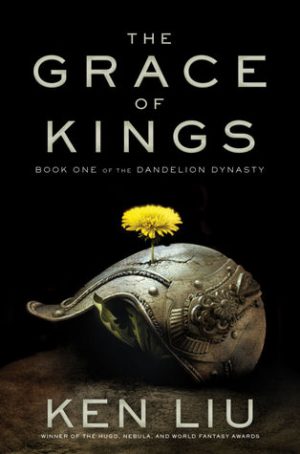 The Grace of Kings
By:
Ken Liu
Website:
http://kenliu.name/
Release Date:
April 7, 2015
Publisher:
Simon & Schuster
Series:
The Dandelion Dynasty, Book #1
Award:
Nebula Award Nominee for Best Novel (2015), Locus Award for Best First Novel (2016)
Rating:
The Grace of Kings by Ken Liu is a good book. Part of me liked it – really liked it. The other part of me? Not so much. The prose is beautiful. Ken Liu can really write. The depravity of war and conquest is more terrifying, the heat of battle more intense, simply because it was he who wrote it.
The world building was done extremely well. The world is vast, and its politics well outlined. However, as detailed and well-constructed the as the world itself is, the characters lack in depth.
None of the extraordinarily large cast has much, if any, depth whatsoever. They have characteristics and qualities, but there is never any real, solid character development. Even the main characters suffer from this, and, certainly, do the host of assorted characters who pop in and out of the story. There aren't many women characters within this large cast either. I can't necessarily fault the story for this. It's a tale of war in a society where women weren't fighters or leaders. But those women who did show up were treated with the same lack of depth as all the rest.
In that same vein, the story does grow predictable. It becomes easier and easier to foresee characters actions, and, ultimately, the outcome of individual battles and the war itself. I also felt like there were times were certain points were just beaten to death. I mean, yes, I understand these two characters are foils. You don't need to keep explaining how they're oh so different yet still friends all time.
While Ken Liu is clearly a master of prose, the story itself just didn't do it for me. I would suggest anyone who likes tales of political intrigue and war, those who are waiting for the next Game of Thrones book to come out to read The Grace of Kings.
Read If:
you enjoy fantasy, you like Game of Thrones styled stories

Don't Read If:
political intrigue gives you a headache, fantasy isn't your thing, you don't like gigantic books (this one is very long)