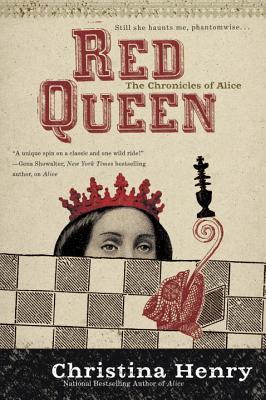 Red Queen
By:
Christina Henry
Website:
http://www.christinahenry.net/
Release Date:
July 12, 2016
Publisher:
Ace
Series:
The Chronicles of Alice, Book #2
Received From:
Publisher
(All reviews are our own, honest opinions.)
Rating:
I really enjoyed Red Queen by Christina Henry. This is the second book in a series, and I hadn't read the first one yet when I received an arc. However, it is very easily read without the first. Enough of the first book is conveyed to get a general feel of the world and Alice's past. The majority of this is run through in the prologue. Don't skip this if you'd like a refresher on the series. This book, too, is quite easily read as a standalone novel.
An Alice in Wonderland inspired story, it is darker than the original, yet holds the same 'feel' as, I think, many expect a tale about Alice, any Alice, to hold. The prose was wonderful, drawing one further into the tale, and held that intangible, magical quality I love so much. It's very readable, and I finished it very quickly.
Magic and whimsy weave through the pages of Red Queen. It is unequivocally a tale of Alice. Yet, references to Alice's past and first book of the series are quite tonally dissonant. Alice's past is one of incredible darkness, while this is much more in line with the sort of fantasy one would expect an Alice to be placed in. This was a little jarring within the story itself. I can only imagine that reading the two books in this series back to back would be enough to give a person whiplash.
Yet, the novel completely drew me in. It was filled with wonder and characters who were rather sympathetic. They were people with trauma in their pasts, people trying to move forward in a world of magic, danger, and the surreal. More than anything, it was fun.
If you are a fan of Alice in Wonderland or YA retellings, this is a book you might want to read. Red Queen by Christina Henry is an interesting retelling, one I'm quite glad I read.