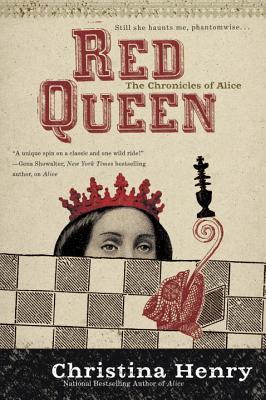 Red Queen
By:
Christina Henry
Website:
http://www.christinahenry.net/
Release Date:
July 12, 2016
Publisher:
Ace
Series:
The Chronicles of Alice, Book #2
Received From:
Publisher
(All reviews are our own, honest opinions.)
Rating:
I really enjoyed Red Queen by Christina Henry. An Alice in Wonderland inspired story, it was both darker than the original, but held the same 'feel' as, I think, many expect a tale about Alice, any Alice, to hold. The prose was wonderful, the world had that magical, otherworldly quality I love so much. It's very readable, and I finished it very quickly.
First, disclaimer. I didn't read the first book in the series.
I know, I know. I really should have read the first book before delving right into book two. But, to be honest, I've only ever read one series in the proper order, Lord of the Rings, and then only because I was about ten and my mom was digging the books out of a box in the attic and fed them to me one by one. My own admittedly odd reading habits aside, let's take a look at the book.
Not having read the first book isn't a problem at all. There is a prologue in the beginning of Red Queen told from Cheshire's point of view which gives a rundown of the first book. However, compared to the rest of the text, this could have been handled a bit more deftly instead of 'oh, just stick a prologue on it'.
I did find one thing questionable. Elements from the first book in the series are mentioned and touched upon and, from what I can tell and have heard from others, Red Queen is completely different in tone than Alice, the first book in the series. Take this with a grain of salt, of course. But even passages in the book with mentions of Alice's previous adventure seem totally off point with the goings on in Red Queen.
The book reads very well as a stand-alone novel. This isn't something every series can pull off, and I was very impressed with it. So, if you want to pick up the story here and forgo the first book, or you're not ready to commit to a series, I'd say go for it!
Red Queen was a good read, and one I'd recommend.
Read If:
you like Alice in Wonderland retellings, you don't want to dedicate time to a full series (the book can be read as a single novel with little problem)

Don't Read If:
you dislike retellings that stray from original plot, don't enjoy fantasy with a distinctly dark tone