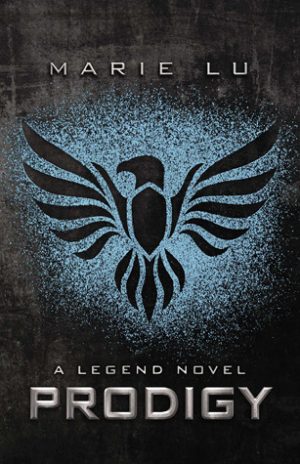 Prodigy
By:
Marie Lu
Website:
http://marielu.org/books.html
Release Date:
January 29, 2013
Publisher:
Putnam Juvenile
Series:
Legend, Book #2
Rating:
I will admit, right away, that I didn't tear through Prodigy as fast as I did Legend. I'm willing to bet it's more due to the circumstances of when I was reading this than the quality of the book. (There was a family emergency, and the book was put aside so that I could focus on helping. But enough about my life.)
We return to the alternating points of view of Day and June and, this time, the book starts off with our hero and heroine together. However, they don't stay together for long as they are pulled apart by circumstance, as you would expect from any good novel.
When the Elector Primo dies, and June and Day join a group of rebels known as the Patriots each side stands to gain something they desperately want. Day is hoping to free his brother from capture and the Patriots are hoping that together June and Day can kill the new Elector Primo.
The problem is, when everyone has an ulterior motive, and no one is 100% honest with each other, lies, secrets and double crossing take place. When this happens the question remains, who can June and Day trust and, most importantly, can they trust each other?