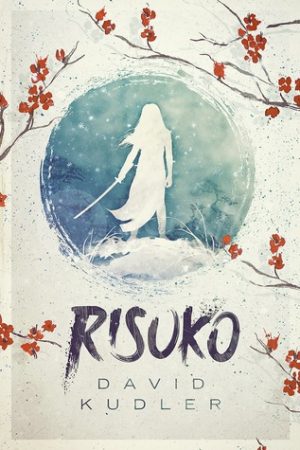 Risuko: A Kunoichi Tale
By:
David Kudler
Release Date:
June 15, 2016
Publisher:
Stillpoint Digital Press
Series:
Seasons of the Sword, Book #1
Award:
BAIPA Great Reads Award - Best in Class
Received From:
Publisher
(All reviews are our own, honest opinions.)
Rating:
Risuko: A Kunoichi Tale by David Kudler is a tale about a young girl, nicknamed Risuko, living in Japan in the age of the samurai. Her father died several years earlier, and she lives in relative poverty with her sister and mother. When the story opens, Risuko is sold to a rich women, with the intent of becoming a kunoichi – something she hasn't necessarily heard of and doesn't, at first, understand.
When I first stumbled across Risuko, I was very excited, and wanted to get my hands on a copy any way possible. I loved the cover, I loved the setting, and I loved the synopsis. Once I did, I started the book immediately.
I instantly liked Risuko, both as the narrator and main character. I finished the first few chapters very quickly, but the middle section of the book felt rather slow. We learn a bit about Risuko's father, her new companions, follow her to lessons, and, well, that's largely it. The action picks up again around 75-80 percent through the book. And, when it does, it seemingly comes from nowhere. Most frustratingly, I didn't understand the motivations of the antagonist until Risuko asked the same questions I was thinking. Then, several paragraphs of backstory and description later, I finally got my answers. Mostly.
There is something else that peeved me a little while reading – the use of honorifics. (For those who don't know, or aren't sure what that is, they are the additions at the end of names, such as -san, -kun, -sama, etc.) I watch a hell of a lot of anime, and like a lot of anime fans, I have some strong opinions on this. The use on honorifics isn't necessarily a no-no for me. If they are included in an English translation of an anime, manga, or light novel, I want them included with reason, not just because they were in the original. Does the use, or non-use, signal a character's true feelings about someone? Does it relay information in a subtle way we might otherwise not know, or have trouble deducing? If yes, then sure, go for it! However, after reading Risuko I don't think any of those are true. At best it merely evokes the setting to a higher degree, but perhaps at the cost of the comprehension of readers unfamiliar with honorifics, what they mean, and their uses. All in all, I just don't think the honorific's were necessary.
Pet peeves aside, I did enjoy this novel. The characters are constructed well, and largely drive the story. A few are, perhaps, a bit two dimensional, but this is the first book in a series and I do expect both the story and characters to be flushed out in the coming books. If you like historical fiction, young adult works, or tales set in Japan, give Risuko: A Kunoichi Tale a read.
Read If:
you enjoy Japanese history/culture, you like a good YA novel

Don't Read If:
you don't like slower paced books, you aren't a historical fiction fan