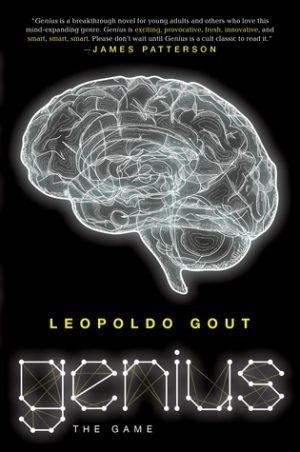 Genius: The Game
By:
Leopoldo Gout
Website:
http://www.ghostradio.com
Release Date:
May 3, 2016
Publisher:
Feiwel & Friends
Received From:
Publisher
(All reviews are our own, honest opinions.)
Rating:
Genius: The Game by Leopoldo Gout is a young adult story with a tech/sci-fi feel. The story centers around a game designed by a young, wealthy CEO who invites 200 child and teen geniuses to participate. The prize? Access to one of the world's largest supercomputers, which is exactly what Rex, one of the main protagonists, needs to get his hands on in order to find his missing brother.
I wanted to love this book. But, in the end, it fell a little short for me. But first, the good:
The characters were great, and I really liked all of them. Even the minor characters, and there were a good number of them, were memorable. The book was fast paced, with a number of sub-plots, but never so many that it felt out of hand. It's written in first person point of view, and switches between the three main characters – Rex, Tunde, and Cai – on a chapter by chapter basis. And, unlike some other books I've read, it does so very smoothly. The scene transitions and point of view transitions are all handled very well. However, there were a number of things which forced me to give it a lower than perfect score.
First, the graphics bothered me, which is odd as I'm a huge fan of graphic novels and manga, and studied Art History (basically, I really like pretty pictures). However, many if not all of the graphics in this book felt unnecessary at best and, at worst, actually got in the way of the storytelling. One graphic didn't even agree with the description in the text – a picture drawn on a napkin with pizza grease on it. The picture of this clearly has a coffee ring, or a sweat ring from a can of soda on it. Maybe it's a little pedantic, but it bothered me to no end. (Also, I had an ARC copy. This could have been changed for the final copy, which I don't currently have).
Also, the ending posed some problems as well. There was little closure. Almost none. In fact, the book opened up more new questions than it answered. The only subplot that I felt had even a modicum of closure was Tunde's, and even that could be considered unfinished. Clearly, this is supposed to be the first of a series, though it isn't really stated anywhere on the book that I could find. (I do have an ARC copy. This might be different on the official release). If there was more closure to this book, I probably would have given it four stars instead of 3. Still, Genius: The Game was a fun story with memorable characters great for anyone who likes fast paced young adult novels.
Read If:
you like young adult, you like alternating points of view, you like thriller-esque novels

Don't Read If:
you don't like alternating points of view, you don't like young protagonists