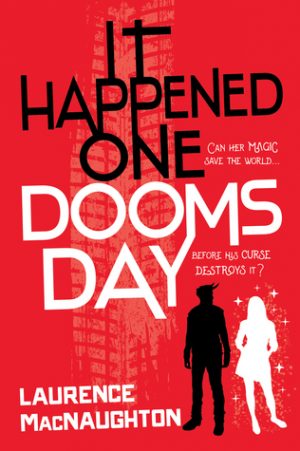 It Happened One Doomsday
By:
Laurence MacNaughton
Website:
https://twitter.com/LMacNaughton
Release Date:
July 12, 2016
Publisher:
Pyr
Series:
A Dru Jasper Novel, Book 1
Received From:
Publisher
(All reviews are our own, honest opinions.)
Rating:
It Happened One Doomsday by Laurence MacNaughton is a fast paced urban fantasy. Overall, this is the sort of book I normally keep on hold until there are a few more in the series, and then binge read them all at once over the course of a weekend. Of course, there's only one title in the series so far, meaning it wasn't an option this time. The book is a quick read, filled with action and plenty of banter between characters.
However, the action comes to a near screeching halt at the end.
Now, it's really no slower than the first chapter, and there's definitely forward movement – events are still ongoing. And, honestly, the characters need and deserve a bit of a break after everything they've gone through. On the other hand, the sudden stop is a bit jarring. After 250-something pages of nonstop pedal-to-the-floor momentum even a slight lull in action feels like we're slamming on the breaks.
The characters, while fun and largely relatable, do lack a certain amount of development that I normally expect. Sure, they all had their quirks. They were all memorable. But there was rather limited development. On the other hand, this book is the first in a series. So there is, potentially, a lot of room for Dru, Greyson, and the others to grow as characters.
Still, the book made a fun, quick afternoon read. The premise is interesting, and I'd like to see where the author takes it in the next installment of the series. I would recommend It Happened One Doomsday to anyone who like paranormal or urban fantasy.
Read If:
you like urban fantasy, you like paranormal books, you're looking for a fun & quick read

Don't Read If:
you like more development in your characters, aren't a fan of paranormal or paranormal romance novels