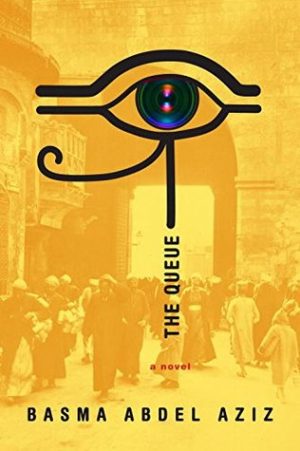 The Queue
By:
Basma Abdel Aziz
Release Date:
May 24, 2016
Publisher:
Melville House
Received From:
Publisher
(All reviews are our own, honest opinions.)
Rating:
I really enjoyed reading The Queue by Basma Abdel Aziz. It is very well written, with lovely prose, a testament to both the author and the translator. The novel is told in classic dystopian style, more akin to George Orwell's works than any of the young adult dystopian novels more commonly found on shelves today.
But, before I start sounding too much like my high school English teacher, the plot!
The story itself definitely has a Godo-esque quality to it. Our main character, and most of the supporting cast, are waiting at The Gate – a mysterious structure appearing virtually overnight, which, one day soon, they promise, will open for business. Here, they will take care of all manner of documentation – citizenship, medical procedure approval, everything. And, as the government cracks down harder, virtually everything needs approval at The Gate. Hundreds line up. Then thousands. And, as the novel progresses, people's lives become waiting perpetually at the Gate.
The book itself isn't very long. Its more novella sized than novel sized, and about equal in length to dystopian novels like Brave New World (not that they have much of anything in common other than genre and length). However, the book can be a little dense. There's a lot going on within the pages, and I didn't get through it quite as quickly as I had expected I would. The first half of the book may have the tendency to feel a bit long, or else be a bit difficult to get through. A number of characters are introduced in rather rapid succession. However, the chapters are fairly short, which does make the reading easier. The second half of the novel goes by much more quickly, focusing largely on the main character, his dilemma, and the close friends trying to assist him.
As much as I love this book, I don't think it's for everyone. If you enjoy Orwell, Kafka, and the like you'll enjoy this one too. And, personally, I think The Queue can absolutely hold its own against the big names within the genre.
Read If:
You like enjoy dystopias, like translated novels, you don't mind alternating points of view

Don't Read If:
You still have recurring nightmares about the dystopia section of high school literature, you don't like alternating points of view