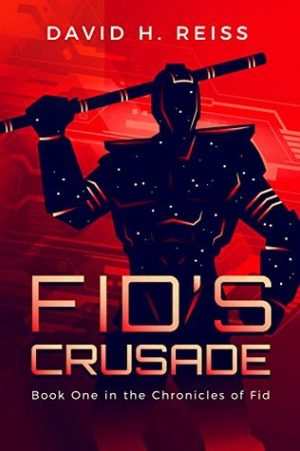 Fid's Crusade
By:
David H. Reiss
Release Date:
June 2018
Publisher:
Self-Published
Series:
The Chronicles of Fid
Award:
BBNYA 2nd Place, Winner of 2018 Publisher's Weekly BookLife Prize in "Science Fiction/Fantasy/Horror" of the "Science-Fiction / Fantasy / Horror" category, and IndieBRAG medallion honoree
Rating:
One of my favorite reads of 2020 was Fid's Crusade by David H. Reiss. This self-published novel is the first book in the series The Chronicles of Fid. The story is about Doctor Fid, a supervillain who has made it his sole duty to find and punish those unworthy for the title of hero. But personal tragedy follows Doctor Fid like a dark cloud, leading him to investigate certain crimes. Slowly, a plot is uncovered, and the self-avowed supervillain finds himself in a race against time to save the world.
While the book is certainly about heroes and supervillains, the pacing isn't necessarily one of breakneck speed. Plenty of time is taken to explore Fid's past and what turned him into the supervillain he is today. We get to understand Fid's thoughts and actions inside and out, meaning flashbacks can be frequent. This doesn't interrupt the pacing of the story at all, but it does mean that, while the story may bear the sort of action a tale of superheroes and villains brings to mind, the action isn't constant.
Doctor Fid is a supervillain. Like many of his ilk, he has a dark and tragic backstory, which fuels many of his actions for years afterwards. This isn't simply window-dressing, though. Despite being a book about superheroes and supervillains, this is a story about people, not the fights they have. Fid's Crusade is a very character driven novel.
Fid's Crusade is a book that lingers in the gray space between good and evil. While we may see the very, very good and the very, very evil. More often than not, though, we see the moments of kindness and compassion in villains or the self-centered or downright evil moments of heroes. Both sides of the ongoing fight between the heroes and the villains show people simply trying to survive, fighting for what they believe is right.  
The book goes in several unexpected directions, keeping readers on their toes just when they may have thought they've figured things out with a wide variety of fantasy and science fiction elements woven together rather deftly.
Reiss takes us on quite the adventure in Fid's Crusade. It's a wonderful ride that I can only urge you to read for yourself. While I haven't read further into the series yet, I am excited to pick up book two in the series, Behind Distant Stars, soon.