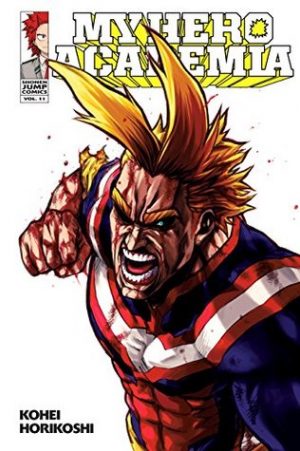 My Hero Academia Vol. 11
By:
Kohei Horikoshi
Translator:
Caleb Cook
Release Date:
(English) February 6, 2018; (Japanese) November 4, 2014
Publisher:
VIZ Media LLC
Series:
My Hero Academia
Received From:
Publisher
(All reviews are our own, honest opinions.)
Rating:
Well, here we are. A new volume of My Hero Academia is being released tomorrow, February 6, 2018, and season 3 of the anime is fast approaching. My Hero Academia Vol. 11 by Kohei Horikoshi is a fast paced race to the end of the current arc, filled with battles, fallout from the numerous villain attacks on U.A., and It's tense. It's exciting. And if you listen to OST's from the anime version when reading manga and the song I Am Here happens to begin playing right around page 94 like it did with me, be prepared to cry.