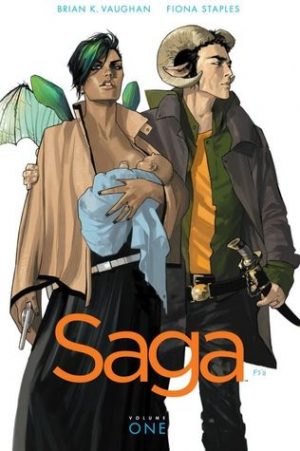 Saga, Vol 1
By:
Brian K. Vaughn (writer); Fiona Staples (artist)
Release Date:
October 23, 2012
Publisher:
Image Comics
Series:
Saga #1
Award:
Hugo Award for Best Graphic Story (2013); Harvey Award for Best Continuing or Limited Series (2013); Harvey Award for Best New Series (2013); Harvey Award for Best Single Issue or Story (2013); Harvey Award for Best Writer (2013); Harvey Award for Best Artist (2013); Harvey Award for Best Colorist (2013); Harvey Award Nominee for Best Cover Artist (2013); Will Eisner Comic Industry Award for Best New Series (2013); Will Eisner Comic Industry Award for Best Continuing Series (2013); Will Eisner Comic Industry Award for Best Writer (2013)
Rating:
If you read blogs, follow booktube, or are a fan of graphic novels, chances are pretty good that you've heard of Saga, Vol 1 by Brian K. Vaughn. I first heard of the series quite a long time ago, probably near the first volume's original release date way back in 2012. I debated and debated, and eventually bought something else. But the cover stuck with me even if the plot didn't. Recently it seems that everyone's been talking about Saga and, when I saw a copy for sale at Book Con, I finally picked it up.
Saga, Volume 1 is the first volume in a series about two people, Alana and Marko. They are from two different species who have been at war with one another longer than anyone can remember. Both have deserted their posts in the opposing armies and have run away together. All they want is to be together and raise their newborn daughter, even if they know they can't be truly safe. Two armies and several freelance contractors are hot on their tail as they try to escape the planet where their daughter was born. This is their story.
Originally, I was afraid this series would be over-hyped and not live up to my expectations, something that seems to have happened more than a few times to me in the last several months. What can I say? I'm damaged. But, just this once, I should have trusted my first instinct all those years ago and just bought the damned thing.
This story is very character driven. The premise is uncomplicated, but where other stories of 'I must save my family' grow tiring or stale, this one revels. I think one of the reasons why this is, is because of how the story is approached. The main characters don't have any false expectations. They know they can't hide from either side of the war, and don't fall into the tired plot of 'we'll hide somewhere they'll never find us' which normally seems to end in everyone but the main characters being unsurprised that they are still unsafe. Here, the characters decide that they will show their daughter the universe, going from place to place, because stopping isn't safe.
I really fell in love with the characters. All of them. Though none are human, they are very real people. Each one was relateable in I found myself really loving some of the side characters. The teenage ghost, Izabel speaks and feels like a teenager, and was probably my favorite side character. The characters who are searching for Alana and Marko all have very real, very understandable motivations. Despite wanting our main characters to remain safe and together, a part of me wanted these characters hunting for them to succeed. I felt for them. I wanted them to succeed on their quests as well. It's rare that an author can make empathize so completely with nearly the entire cast of characters. I really commend the author on this.
And the art! The art is beautiful. The colors are bright and vivid. The creatures and peoples are sometimes familiar looking, sometimes surreal or grotesque. The world felt like a different world, another galaxy, with all of the strange creatures one would expect. I would continue reading the series for the art alone. And I am not alone in this feeling. Fiona Staples, the artist, won numerous awards for this volume alone. Seriously, hats off to this artist.
This universe feels like outer-space. There is no short supply of strange, otherworldly creatures. Some are humanoid but sport wings or horns, like our main characters. Others are more surreal. Some are monstrous and grotesque. Even the being which most closely resemble humans are quite different, being turned into ghosts upon death in order to protect their planet.
I really loved this about Saga. The world it's set in feels like a faraway universe, a place with limitless opportunities and no short supply of fascinating places to go and people to meet. Not only do we have the usual space ships and guns, but we have all kinds of magic and wondrous things as well. What is most familiar are the themes: love; family; doing anything to keep your family together and safe. And it is these themes which make just about every character so very relateable.
This is a series I will definitely continue with. Saga, Vol. 1 was everything I had heard it was and was afraid it wouldn't be. I was completely engrossed from start to finish. I absolutely recommend picking up a copy of this award winning graphic novel series. If you like stories set in space, stories with magic, and character driven stories, this is the series for you. If you don't like stories with a looser plot line and featuring some gore and some sex (though nothing gratuitous) this one may not be for you.