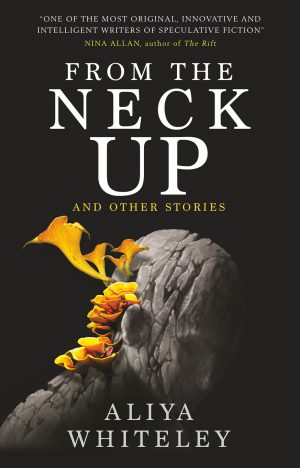 From the Neck Up
By:
Aliya Whiteley
Release Date:
September 14, 2021
Publisher:
Titan Books
Received From:
Publisher
(All reviews are our own, honest opinions.)
Rating:
Award-winning author Aliya Whiteley is certainly no stranger to horror. Her latest collection of short fiction, From the Neck Up, is another foray into this familiar land that marries horror with the uncanny. Sixteen wonderful tales comprise this collection, with something for every reader.
Many of these sixteen short stories follow themes that may be familiar for many of Whiteley's fans. The horror found in Whiteley's tales is a slow, creeping thing. Common themes that run through these stories are the horrors of the everyday. Very normal, mundane settings grow increasingly uncanny, odd, or strange in wonderful ways that can't always been foretold, even by seasoned readers.
Body horror is played with in very interesting ways here. This isn't the sort of horror that it may first sound like, either. Rarely does Whiteley venture into the territory of the bloody and gruesome. No, this is something slower, something gets under your skin and lingers. However, it is also something that is oddly comforting in many ways. That may sound strange to some, but what is horror if not searching for answers to our own fears and anxieties, no matter how outlandish or unreal a fashion they may be presented?
Age and the human body play major parts in many of the tales within From the Neck Up. Many of the main characters in these stories are much older than typical main characters, dealing with issues that, one day, we all shall face. Relationships, especially long-lasting, well-established relationships are also explored.
Short stories included vary greatly in length. A few of the shorter tales could stand to be just a few pages longer, which would allow for a more thorough exploration of the themes presented. However, there's a certain chill that comes with such short vignettes. Having the window onto someone's life snapped shut without, say, knowing that everything will work out okay for them is a certain horror in and of itself.
Fans of Whiteley and readers looking for horror of a slower, creeping nature will find a lot to love in his collection, which is perfect for the coming fall season.