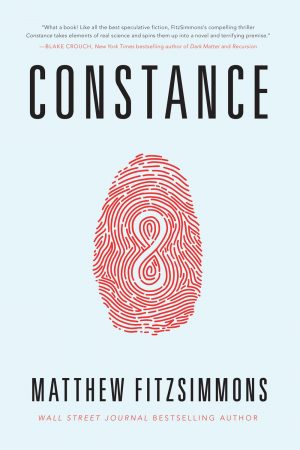 Constance
By:
Matthew FitzSimmons
Release Date:
September 1, 2021
Publisher:
Thomas & Mercer
Rating:
Matthew FitzSimmons, author of the Gibson Vaughn series, brings us a new novel. Constance is a foray into the near future, the science fiction tale veering into the territory of a thriller with its consistently fast pacing and high tension.
When Constance D'Arcy awakens at Palingenisis after a routine memory upload, she realizes two things: she's a clone, and the original Constance is dead. The singer/songwriter had been drifting gig to gig after a tragic accident killed several of her almost-famous band members and left her lover comatose just before the launch of the band's debut album.
Now, Constance is missing eighteen long months of her original's memories, something that never should have happened. There was a strict schedule for uploading memories at Palingenisis just in case the unforeseen happened, which it clearly had. However, something had obviously gone wrong. Her very existence is considered a lapse in morality by many, and the company her scientist aunt founded wants her "deleted." All Constance has are unanswerable questions, and it's up to her to find out what happened to the original Constance D'Arcy.
Constance is the intersection of many genres and examines a plethora of issues. Complex motives and tantalizing clues built both mystery and tension. The more is unveiled about Constance's world, the more it becomes evident that this near future with eerie overlaps to our own world is truly dystopian in nature.
Many questions are asked, and the novel tackles a broad spectrum of very timely subjects, such as autonomy, sense of self, right to life, and what it means to be human in a world where humanity can be manufactured. While the discussions on these are nuanced ones, the ending isn't quite as satisfying. The breakneck pace of the book naturally leads to a crash course of an ending, with many plot threads being wrapped up, unforeseen twists and turns taken, and a general lack of time to digest any of the many new things being thrown at readers. Even so, it is an enjoyable story that seeks to ask and maybe even answer some of the hard-hitting questions people grapple with today.