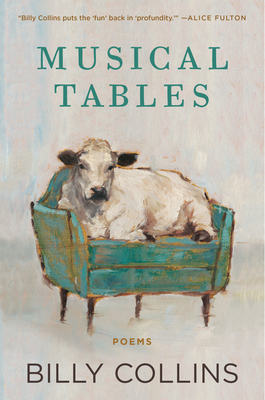 Musical Tables
By:
Billy Collins
Release Date:
November 15, 2022
Publisher:
Random House
Received From:
Publisher
(All reviews are our own, honest opinions.)
Rating:
Billy Collins, former Poet Laureate of the United States, has brought us a brand new collection of poetry titled Musical Tables.
Each poem is a "short poem," something that is only a few lines long, at most and merely a few perfectly chosen words at their shortest. With 125 poems in total, this is a fairly robust collection broken into four parts, making for excellent groupings that can be easily read together.
The poems themselves are short by design, just enough to be intriguing. Many have the tendency to make readers pause for a moment and go "huh." However, there isn't terribly much to contemplate beyond a first impression.
Collins's work by and large is void of the deep profundity of other poets. This is by design, though, something that is important to keep in mind. These works are incredibly accessible, the sort of poems that can easily be suggested to a reader who wants to dip their toes in poetry and doesn't know where to start, which potential readers should keep in mind.
Even so, many of these poems didn't stick. They are perfect for a moment, lingering ever so slightly before fading into the next poem. Perhaps they don't need to be more than that, but the collection as a whole feels somehow unfulfilling. Each page I turned waiting to be blown away, and each time I was left ever so slightly disappointed.