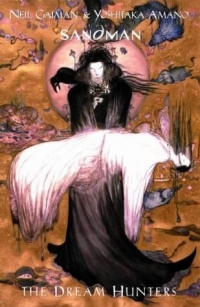 The Sandman: The Dream Hunters
By:
Neil Gaiman (writer); Yoshitaka Amano (artist)
Release Date:
November 1, 1999; (This Edition) 2000
Publisher:
Titan Books Ltd.
Series:
The Sandman
Award:
Bram Stoker Award for Best Illustrated Narrative (2000); Hugo Award Nominee for Best Related Work (2000); Will Eisner Comic Industry Awards for Best Comics-Related Book (2000)
Rating:
Have you ever heard of The Sandman: The Dream Hunter by Neil Gaiman and Yoshitaka Amano? Yeah, I hadn't either. I discovered this book tucked away in the graphic novel section of my local library between two volumes of The Sandman graphic novel. The story set within the Sandman universe. This is a novella, though, not a graphic novel. Even better, it's filled to the brim with one and two page art spreads by none other than Yoshitaka Amano, famed artist for many a Final Fantasy game.
This book was a real treat, especially finding it at a library that doesn't stock many graphic novels or short fiction. The story itself is set long ago in Japan and follows a monk, a fox who lives near the monk's temple, and, among others, the Sandman. I don't want to say too much more about the plot as the story is rather short and I don't want to go too deeply into spoiler territory. What I will tell you is that it was written for the 10th anniversary for The Sandman.
This story feels like a fairy tale. And that's for a very good reason. This is a fairy tale. Though initially conceived without any sort of knowledge of the Japanese fairy tale it retells, this is a retelling of a kind. Here, the King of Dreams in the original is portrayed as The Sandman, an easy enough transition to make. And, let me tell you, I am always up for myth based prose from Neil Gaiman.
As a retelling, how does this story fit within The Sandman universe? As far as I have read – which is far from the entire series – it works perfectly fine.
There is almost more artwork than words in this novella. Each page of text has a corresponding image beside it. Large, two page spreads are also included throughout the book, as well as a four page fold out image. If you are a fan of Amano's art this is most definitely a book that you will want to have for your collection.
The art itself is, well, amazing. It's Amano, after all. The images are light and airy. All hold a magical quality, the exact sort of image one would expect to find within a fairy tale.
There is no happy ending here, not truly. But the ending was extremely satisfying nonetheless. The characters grew and changed throughout the story. Villains were treated with the sort of comeuppance that only fairy tale villains (or those that draw the Sandman's ire) get.
I heavily suggest reading this book, even if you normally read comics and aren't necessarily a fan of prose fiction. It's short, easy to get through, and bears the amazingly beautiful illustrations of Yoshitaka Amano. Fans of The Sandman who haven't read any of Gaiman's longer prose work will also find this a good starting off point, giving a good sense of his writing style outside of the world of comics while still remaining very familiar.