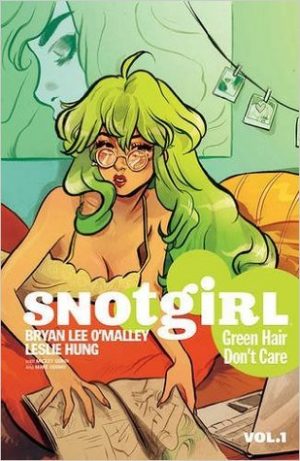 Snotgirl
By:
Bryan Lee O'Malley; Leslie Hung
Website:
http://radiomaru.tumblr.com/ ; http://milkmanner.tumblr.com/
Release Date:
February 28, 2017
Publisher:
Image Comics
Series:
Snotgirl #1
Rating:
A graphic novel I'd heard about on booktube (that's book based youtube videos for any who aren't familiar with the term) and decided to pick up is Snotgirl by Bryan Lee O'Malley (creator of Scott Pilgrim) and Leslie Hung. While having a slight air of mystery about it, this graphic novel doesn't fall into the usual science fiction, fantasy, or horror genres I normally read. This is both a blessing and a curse. I like stretching out of my comfort zone, but at the same time I am often reminded why I enjoy those genres to begin with.
Snotgirl follows Lottie, a twenty something fashion blogger. While maintaining a perfect image online, she is anything but in real life. Severe allergies make her look and feel rather unbeautiful. Those she calls friends are rather self-absorbed and don't seem to care about her as a person. And, most damningly, the friendly, lovable persona online is merely a façade for a rather terrible personality. Just when she thinks she's finally found a real friend, someone who can look past her flaws and more insufferable personality traits, a tragic accident occurs, leaving Lottie terrified. After fleeing the scene and locking herself in her apartment for days on end, she finally emerges, attempting to reenter society.
This is a story about terrible people doing terrible things. No one in this story is blameless. A few individuals did seem to have an outwardly good personality, yet, coupled with the rest of the cast, I constantly found myself wondering if they, too, had a hidden side and when it would be revealed.
The plot felt rather slow and meandering, echoing the main character's lost, dazed haze she wanders through life with. There wasn't a great deal of payoff in the end of the volume either. The ending did have a bit of a cliffhanger, sure. But at the same time, nothing quite happened. This is very much a book about facades and well off people playing long term games with and backstabbing their so called friends. At least, that's how it feels. To be honest, I've never really been fond of plots similar to this. A one off character with this sort of personality is fine, but I often find my attention waning when every character is relatively the same and playing at similar goals in similar ways.
I normally enjoy books about terrible people doing terrible things, but with this one I felt as if they weren't terrible enough to keep reading. They were not over the top enough or sadistic enough to maintain that horrified wonder that normally encourages me to keep reading. These characters were just generally flaky or sleazy or just not quite trustworthy enough to be considered a friend. They never entered into the realm of the truly horrible. Were they people you'd want to call friends? No, of course not. But at the same time none of the characters seemed to really be the type that would end up on a wanted poster either.
While I appreciate the art and trust the creators based on previous titles they've released, I'm not sure I will actively be seeking out the next volume in the series. Snotgirl, while entertaining at times, is just okay. The plot took too long to wrap back around to the only interesting thing that happened – that being the main character's new friend's apparent death – and I didn't find myself overly interested in any of the characters. If you like contemporary stories with some drama and mystery, this might be a title for you. If, like me, you were hoping for a tale of truly despicable human beings and some tragic events, this might be one to skip.
Read If:
You like stories about 'false' people; You like some light mystery in your graphic novels

Don't Read If:
You don't like stories about characters with a Pretty Little Liars feel as opposed to terrible people doing terrible things