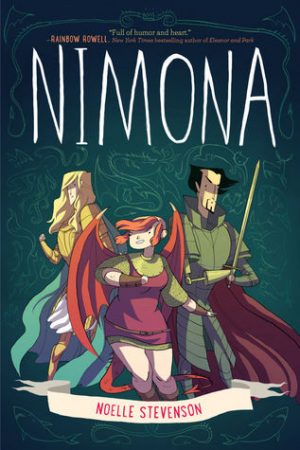 Nimona
By:
Noelle Stevenson
Release Date:
May 12, 2015
Publisher:
Harper Collins
Award:
National Book Award Nominee for Young People's Literature (2015); Odyssey Award Nominee (2017); Dorothy Canfield Fisher Children's Book Award Nominee (2017); Evergreen Teen Book Award Nominee (2018); Milwaukee County Teen Book Award Nominee (2016); Lincoln Award Nominee (2018); Will Eisner Comic Industry Awards for Best Graphic Album-Reprint and Nominated for Best Digital/Web Comic (2015)(2016); Children's Literature Council of Southern California Award for Peggy Miller Award for Young Adult Literature (2016); Goodreads Choice Award Nominee for Graphic Novels & Comics (2015); The Magnolia Award Nominee for 9-12 (2017)
Rating:
I had wanted to read Nimona for quite some time. It was a graphic novel I'd heard a huge amount of praise for, but one that I'd simply never picked up. When I came across a copy in the library, I checked it out immediately and read it the very same day. And man, I was not disappointed. Nimona by Noelle Stevenson is an absolutely wonderful story about a villain, his side kick, friendship, and how far someone is willing to go for love.
Nimona is about, well, Nimona, a mysterious young woman who has the ability to transform into any sort of creature. As Lord Ballister Blackheart's sidekick she is determined to help him expose Sir Ambrosius Goldenloin and friends at the Institution of Law Enforcement and Heroics as the completely un-heroic people he knows them to be.
The world the story is set in is a beautiful amalgamation of high tech and medieval fantasy. Knights, magic, and castles are combined with things like mechanical limbs, high tech weaponry, and everything a secret society or classy villain could ever need. I haven't seen these two genres so beautifully combined as often I would like, and it was a real treat to see it depicted here.
The characters were all extremely likable. Lord Ballister Blackheart is a villain, but one who does morally gray to evil things for the correct reasons. His ultimate goal was not to become a villain or to wreak havoc, but that is the role he must play. He doesn't trust the Institute for several very good reasons and has made it his duty to bring them down, not only for his own sake, but for the sake of the people as well.
His arch nemesis is Sir Ambrosius Goldenloin, a true knight in shining armor who works for the Institute and protects the nation from characters such as Blackheart. However, Goldenloin is a bit naïve despite having his heart largely in the right place. He, too, was a character I grew to love.
Yet, the greatest character is probably Nimona, a shapeshifting force of nature who shows up one day insisting that she become Blackheart's sidekick. Where Blackheart would rather use strategy, Nimona uses brute force. Their strategies are wildly different, something that begins to pull a bit of strain on their relationship.
Nimona began as a good book, one that was cute, heartwarming, and humorous. The story grows in intensity, bringing more feeling, more everything, as the story progresses. It is the sort of story that speaks, with relationships that feel real, with love in all its forms, and with th. It is the sort of story that makes you sit a moment at the end, to stare at the closed book in your hands and yearn for more all the while knowing that the story is practically perfect left just as it is.
I highly recommend picking up this graphic novel if you haven't already. Nimona by Noelle Stevenson is an utterly beautiful tale. Read this one. You won't be disappointed.