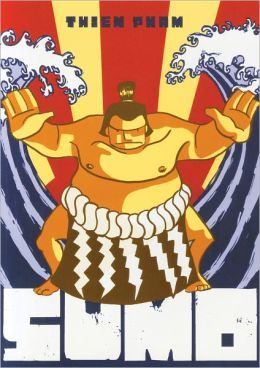 Sumo
By:
Thien Pham
Release Date:
December 11, 2012
Publisher:
First Second
Rating:
I was completely unfamiliar with Sumo before stumbling across it when browsing shelves in the library. The cover was bold, with an amazing image of a sumo wrestler seemingly parting water, and I picked it up immediately without bothering to read any sort of synopsis. Sumo by Thien Pham is a quiet, beautiful story about a young sumo wrestler.
Scott was a football player, a good one, too, but one that never made it into the professional leagues. After a bad break up, Scott leaves for Japan. With a new home, new sumo career, and new name Scott begins to find himself and what's important.
In truth, this graphic novel was nothing like what I expected. This wasn't the action packed look into sumo wrestling I thought it would be. The similarities to sports manga are largely not there. Yet, what I did find was quite wonderful all the same.
Sumo is a slight thing. This is not a very long graphic novel, nor one with any great amount of text. The dialogue is sparse, but wise chosen and often leaves some kind of impact either on the characters or the reader.
The graphic novel can be read quite quickly, but I don't think it should be. This is the sort of story that needs a little time to linger. There is an air of sadness about it, and of melancholy. Both loss and being lost are explored. It's quiet, tender, and slowly built, and so needs time to be fully felt
The art here is simple, but powerful in its own right. This is not a highly detailed style, nor does it try to be overly realistic. There is a simple beauty it has, enhanced by the use of color. The backgrounds of each panel are painted in one flat color. These colors change from section to section, indicating a change in time or location.
I very much recommend Sumo by Thien Pham. Recent graduating college may find this particularly relatable, but I think this story does speak to all. Definitely pick up a copy.