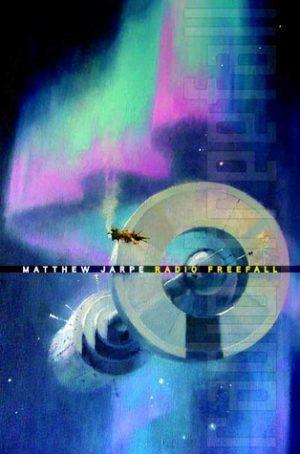 Radio Freefall
By:
Matthew Jarpe
Release Date:
August 7, 2007
Publisher:
Tor Books
Rating:
I stumbled upon Radio Freefall by Matthew Jarpe at the library recently. It isn't a new release, I hadn't been familiar with the author, and I can't recall ever hearing about the novel. So, naturally, I checked it out immediately, knowing nothing but what the flap copy said – this this was a cyberpunk story with rock and roll, AIs, and technology. And you know what? It was a lot of fun.
There is a lot going on in Radio Freefall. It is the story of an Earth coming together under one government, of political unrest, of billionaires controlling everyone and everything they can, sentient computer viruses, and autonomous AIs. It is also the story of a musician finally getting the fame he deserves, of a new band shooting towards stardom, and of learning to trust. I loved reading about Aqualung and the success of the band. I also loved reading about the AIs, Digital Carnivore, and WebCense's takeover. And I loved when these two seemingly separate plots wove together.
These many threads start out as several separate plot lines, with the narrative switching between Aqualung and Quin, especially in the beginning of the novel. However, all of these threads come together to weave a complex tale of music, technology, and politics. Our main characters are not saints, though. Despite being extraordinarily gifted at their respective careers, both have their flaws. Quin is paranoid. Aqualung is slow to trust and uncomfortable giving out advice to his younger band mates, even when the advice is looked for.
The novel was a fun read. The Freefall technology was interesting. The concept of a world government coming together was fun to read about and would probably appeal to fans of Malka Older's Centennal Cycle series. The AIs, their autonomy, and subculture was also fascinating. Some of the world building could have been fleshed out a bit. For all of the AIs in the story, we don't know much about them or their culture. Walter Cheeseman, head of WebCense, seems to have no motives for his actions other than greed, and feels a bit two dimensional.
While the conclusion left little to the imagination, wrapping all the threads of the story together quite nicely, it did feel just a little rushed. We learn what happens to Aqualung and the rest of his band members through a news article, not through the dialogue or prose that comprised the majority of the rest of the novel. This certainly provided proper closure to multiple character's story lines, but it created a certain distance that wasn't present in the rest of the novel.
Despite this, Radio Freefall was a fun read overall. I enjoyed my time with this book, and would definitely read more books by Matthew Jarpe. If you like cyberpunk or rock and roll I would suggest giving this book a read.