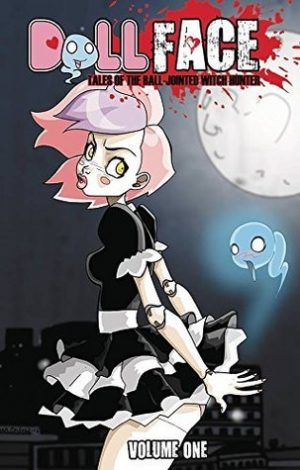 Dollface Vol 1
By:
Dan Mendoza; Bryan Seaton
Illustrator:
Dan Mendoza; Bryan Seaton
Release Date:
June 20, 2017
Publisher:
Action Lab Entertainment
Series:
Dollface
Rating:
My husband and I both read Zombie Tramp, a graphic novel by Dan Mendoza. So it was only natural that we pick up Dollface Vol 1 by Dan Mendoza and Bryan Seaton.
Dollface is a new series featuring Lila, a 3-D printed doll which houses the soul of a 17th century witch hunter. Lila is a doll, a soul that occupies a plastic body. She is the result of an experiment done by two MIT students, Emily and Ivan. Now with a second chance at life she can continue the witch hunting work she started so long ago. And, more importantly, find the witch who massacred her family.
The story is told largely from Lila's point view. The tale begins as Lila is hunting down a witch she senses somewhere in the area. We are dropped immediately into the action, getting to see Lila at work to find and defeat witches. It is only later that we learn of her past, how she was made into a doll, and why one of her companions is a ghost.
While the formatting isn't difficult, it can be a difficult series to get into. The main character of Zombie Tramp is featured heavily within this volume. The two characters are very much opposites, and I enjoyed their interactions. However, I generally dislike when graphic novels rely heavily on crossovers from other series, even when they are set in the same world. Zombie Tramp can a very polarizing character. Personally, I like her, but she alone could be a turn off to many readers.
I am intrigued by Lila's history as a witch hunter and her life in the 1600s. I liked the flashback sections, and I wanted to learn more about her, her past, and the things that haunt her. Sections about her learning about the modern world were fun as well. But we didn't get too much of that. Most of the volume is Lila and company arguing with Zombie Tramp.
The two students whose experimentation resulted in Lila – Emily and Ivan – are interesting in their own right. Ivan is a ghost, though he was alive at the time of Lila's creation. This isn't something I've seen at the beginning of the volume, the details of which are explained towards the end of the volume. He is crass and a bit of a perv – the sort of standard fare that's seen everywhere. I found myself more drawn to Emily, an extremely smart woman who's calm, collected, and in STEM. We need more characters like her.
Honestly, unless you are a reader of Zombie Tramp I'm not positive this is a series for you. If I hadn't already read several issues of Zombie Tramp I wouldn't have been as interested in the plot as I was nor would I have understood Zombie Tramp as a character or her views. We aren't given any time to just learn about Dollface and who she is. She's presented in relation to Zombie Tramp, who is a very polarizing character herself. This alone can and has turned off many readers. This graphic novel, especially as the first volume in the series, would have been stronger had the main character been given time to establish on her own without the overbearing presence of Zombie Tramp.
This is not a series that shies away from blood or gore. Characters are crass, especially Zombie Tramp. If these are things you don't like, then do be warned if you plan on reading this.
One of things I love the most about this series is the art. Bright, bold colors are used throughout the volume. Dollface is a bright character rendered in bright colors. She's the sort of candy haired protagonist more often found in manga, which definitely drew me to her originally.
Dollface Vol 1 by Dan Mendoza and Bryan Seaton was a graphic novel that had an interesting main character whose charm and background was largely overshadowed by Zombie Tramp. I already own the second volume of Dollface, so I will be reading that sometime soon. However, I can't say with much certainty that I'm going to be reading many more volumes in this series.