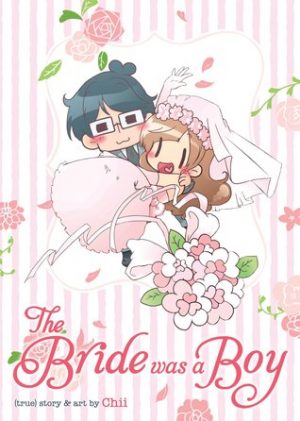 The Bride Was a Boy Vol 1
By:
Chii; Shanti Whitesides (Adaptation)
Illustrator:
Chii; Karis Page (Letterer & Retouch)
Translator:
Beni Axia Conrad
Release Date:
May 8, 2018
Publisher:
Seven Seas
Series:
The Bride Was a Boy
Received From:
Publisher
(All reviews are our own, honest opinions.)
Rating:
The Bride Was a Boy is a diary styled manga by Chii. This manga tells the story of Chii's transition from male to female, falling in love, and getting married. It is a beautiful, heartwarming tale that everyone should read.
This is a really wonderful manga, one that I absolutely loved. Chii outlines her life, focusing on her transition, meeting her future husband, and ensuing marriage. The early life of Chii is explored, yet it isn't quite the focus. At least, not all of the time. What we see much more of is Chii falling in love, telling her family about her decision to transition, her surgery, and getting married. It is a love story as much as it is a story about being a trans woman in Japan.
The romance in this book is very realistic. This is not a story of love at first sight, but one where a relationship grew naturally. Husband-kun is as supportive a person as one could find. I also liked the dynamic between Chii and her mother. It was wonderful to see a loving, accepting surrounding her.
Between each chapter is a one or two page spread focusing on terminology or laws related to the LGBT issues in Japan. Some common misconceptions are talked about here, as well as how Chii feels about these issues. This is her story, after all, and she doesn't hesitate to state her opinion while reminding the reader that not everyone has had the same experiences or the same views. In a similar vein, these sections talk about terminology and laws in regards to Japan, but sometimes include a small section on how those same things are treated in other parts of the world as well.
The art is utterly adorable. The front cover is bright and happy and oh so cute. This was a wonderful adaption of material originally found on the author's blog as well.
I really enjoyed reading The Bride Was a Boy by Chii. This is a great manga that fans of manga, autobiographies, and memoirs would all love. I highly suggest picking up a copy.