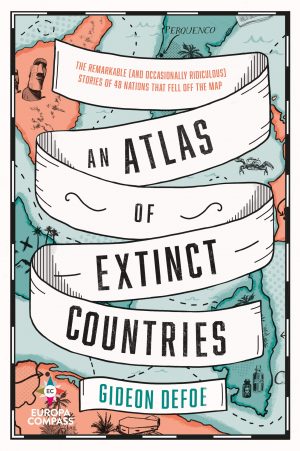 An Atlas of Extinct Countries
By:
Gideon Defoe
Release Date:
September 3, 2020
Publisher:
Europa Editions
Received From:
Publisher
(All reviews are our own, honest opinions.)
Rating:
Gideon Defoe brings the life and death of countries that are no more into the hands of readers in a compact volume now available in paperback. Forty-eight countries are outlined in three to five pages, each of which includes a map and some quick statistics.
Maps are stylized but very readable and recognizable, and serve to enhance the entry. The statistics listed are also interesting, though they can drift into irreverent.
Countries rise and fall for many reason, some of which are inherently humorous. Things such as zoning mistakes, odd laws still on the books, and a single individual staking dubious claims are obvious fare for Defoe's humorous tone and irreverence. However, countries with darker pasts, racist rulers, and places borne from the struggle for freedom and human rights are also outlined. Maintaining a lighthearted tone in these circumstances requires a uniquely skilled hand, and it isn't a stretch to say that many cannot successfully pull this off. Unfortunately, Defoe doesn't quite hit the mark here.
Synopses of each country are very short, no more than a cursory overview. Still, this isn't an in-depth history book, just a quick glance at some interesting facts about interesting places. However, important details get left out or misrepresented due to tone. More than that, the humor and irreverence can stretch from awkward to utterly tone-deaf in certain sections.
Parts of this little atlas are quite a lot of fun. Facts about countries that existed for mere days or are inhabited by only a handful of people are inherently fascinating for many. However, the satirical view unfortunately doesn't work for each country. Still, this can be an interesting coffee table book or something to peruse before bed.