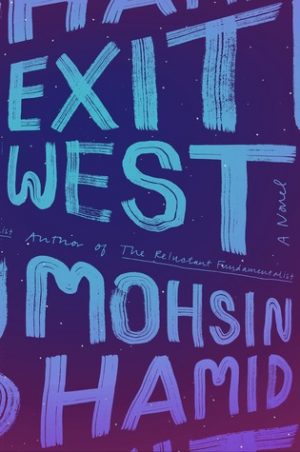 Exit West
By:
Moshin Hamid
Website:
http://www.mohsinhamid.com/home.html
Release Date:
March 7, 2017
Publisher:
Riverhead
Award:
Man Booker Prize Nominee for Longlist (2017)
Rating:
Exit West by Mohsin Hamid is a short book involving a new love, brewing war, and magical doors. Longlisted for the Man Booker Prize this year, this is a book that begs to be read.
The story is about two people, Nadia and Saeed, as they meet and fall in love in the days just before civil war breaks out in an unnamed country. Nadia and Saeed are thrown together, not just for love but for survival in an ever changing, increasingly dangerous world. Then the rumors of the doors start – doors that open to other places. Sometimes it's a bedroom, a bathroom, an office building, but the important part was that it was not Here, somewhere not torn apart by war. Their goal? To go through one of these doors.
This is what Exit West is about. This is also not what Exist West is about at all. I don't want to say too much. Having the story spoiled would take away its magic and charm, and at only two hundred and thirty one pages, it is quite easy to do.
The use of magical doors opening to other places is used very interestingly here. Most often seen in fantasy are door which open to worlds entirely different from our own. There are no magical worlds behind these doors, just a bedroom on another continent or a bathroom in a tourist trap. This is an interesting take on a very old, well used trope.
There is not a lot of fantasy elements in this book. This isn't unusual for magical realism. Like many other books in the genre, this magical element is included in an otherwise very mundane world and accepted as normal despite any visible abnormalities. These doors become very important, some sections of the book bringing them to the forefront more than others. Still, they are not focused on throughout the narrative and are by no means the main theme of the work. They are a means to an end, a device used to further the story. I do not mean this in a negative way. The magical doors preform their purpose very well, and I liked their inclusion within the book.
The real heart of the story revolves around Nadia and Saeed, their relationship, and their struggle through war and as refugees. This is a purely character driven narrative. Nadia and Saeed are very flawed and human, their personalities a combination of sometimes contradictory things. As the characters learn about one another the reader learns about them. As they fall in love, as they rely on one another more deeply than most new couples do.
I do not often read books of this sort, but I was rather enthralled with this book. I was immediately sucked into the world by the beautiful, lyrical prose. The characters were interesting, the world behind them filled with danger and just the barest hint of some magic. And before I knew it half the book was over. Towards the second half of the book events do begin to slow down. The magical realism was much less visible, only mentioned every once in a while. At times, my attention waned. It became more and more apparent at what the book was ultimately trying to say and could have had a few passages shortened here or there.
Still, this was a very good book, one that truly does deserve to be read regardless of what genres may be usually read. I'm glad I picked up Exit West by Mohsin Hamid. It was a beautiful story with an ending that, while not unexpected, was fitted in perfectly with the story at hand. Magical realism can sometimes be a tricky thing, sometimes too overt, sometimes not over enough, and only manages to become uncanny. It never felt this way on the book.