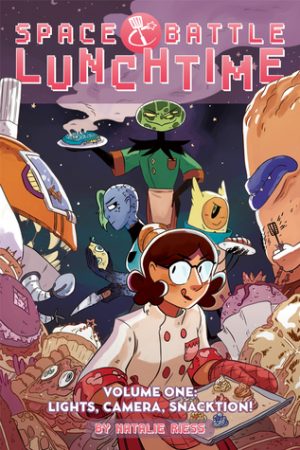 Space Battle Lunchtime Vol 1: Lights Camera Snacktion
By:
Natalie Riess
Release Date:
2016
Publisher:
Oni Press
Series:
Space Battle Lunchtime #1
Received From:
Publisher
(All reviews are our own, honest opinions.)
Rating:
Here's a little known fact. I watch a probably unhealthy amount of cooking shows. Not the ones where they actually show you how to make a dish. Nope. I know I can't cook without the supervision of my mother, even nearing thirty. (Sorry Mom). I watch all the cooking competition shows. Because, well, everyone has a not quite so guilty pleasure, right? Space Battle Lunchtime, Vol 1: Lights, Camera, Snacktion! by Natalie Riess is everything I never knew I needed in a graphic novel. It's fun, it's cute, it's in outer space, and it's a cooking showdown.
I'd never heard of this graphic novel before it dropped into my lap earlier this week. Something showed up in my email inbox and suddenly my Tome Topple goals were completely forgotten and I'd read an entire graphic novel that doesn't count towards my reading goal. But enough about my lack of goal-sticking. There's a synopsis to be imparted! Peony works in a bakery making all manner of delicious looking deserts. One day a frog-looking creature walks into the shop as if frog-ish persons always walk into little bakeries on Earth. After the stranger received a panicked phone call, Peony learns that there is a last minute opening in a cooking contest that needs to be filled immediately. Soon she finds herself on a ship in space competing against aliens who don't seem to like her (or each other) very much and don't always play by the rules.
This graphic novel was just pure fun. The premise is simple enough. It's a cooking contest, only on a spaceship with aliens and exotic, otherworldly foods. The aliens were very interesting. Some were more humanoid. Some were downright bizarre. All of the characters had personality and very unique character designs. These characters grow as the story continues. Everyone is a stranger at first, as Peony is a newcomer, wide eyed, willing to make friends, and determined to do her best in competition, even if she is ignorant to non-earth foods and high tech cookware. She is a charming young woman, a genuinely good person, and a character I grew to love.
As the story continues we see other character's hostility lower. Guards are dropped, if only slightly, and characters which could have been rather one dimensional and used only as competition or foils for Peony begin to get more of a personality and background. Relationships are still complex, however. Despite how much any one character may like Peony, or how much Peony may consider them friends, they are still in competition. When the cameras go on they are fighting for themselves and doing their best.
While this definitely is a cooking showdown, it's a cooking showdown with sabotage and intrigue. This isn't normal reality show, which becomes clearer over time. The graphic novel begins with rampant sabotage, the likes of which only reality TV could ever compete. It may be a little over the top, but at the same time it was quite funny. What start off as funny one offs and lighthearted if over the top humor begins to grow just a hair darker as the graphic novel continues. Threads of conversation begin to make things feel ever so slightly off, something being wrong but nothing that I could quite put my finger on right away. Things grow more sinister, leading to an ending that proved to be quite the cliffhanger.
The art is just as charming as Peony. Think more along the lines of, say, Steven Universe than anything with bold colors and harsh lines. It was fun, and I like the style a lot. All I can say is that the art is cute, charming, and wonderful.
This is was a fun science-fiction-y graphic novel with wonderfully lovable characters. I definitely recommend Space Battle Lunchtime, Vol 1: Lights, Camera, Snacktion! by Natalie Riess, and look forward to reading future volumes. If you like cooking competitions or outer space hi-jinks give this graphic novel a read. If you don't like graphic novels with slower pacing and no epic fight scenes this may be graphic novel to skip.