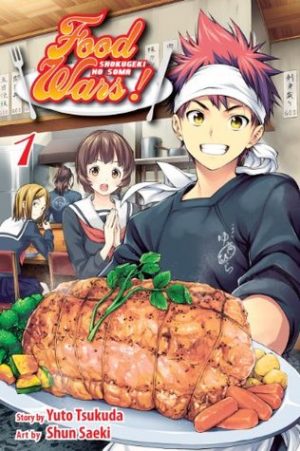 Food Wars! Vol. 1
By:
Yuto Tsukuda (writer); Shun Saeki (art)
Translator:
Adrienne Beck
Release Date:
March 18, 2014
Publisher:
VIZ Media LLC
Series:
Food Wars!
Rating:
Out of all the many genres of manga, shonen is hands down my favorite. I haven't read every shonen title, but I've certainly read a lot of them. I thought I'd seen every sort of battle shonen there was. And then Food Wars! strolled into my life. Food Wars! Volume 1 by Yuto Tsukada and Shun Saeki is a shonen manga based on food.
That's right, folks. Behold the bold creativity of a shonen battle manga based on cooking!
Soma's father owns a small diner, a hole in the wall place that's known locally for to die for food. Try as he might, Soma can't beat his father's cooking, even if he has been cooking at the middle aged man's side and serving customers nearly his entire life. When his father goes abroad and closes the restaurant, Soma is sent to a culinary school, one where only the elite are accepted and only an extremely small percent make it to graduation day. How does Soma who grew up serving food in a diner compare to the heirs and heiresses of restaurant empires and culinary corporations?
Soma is a fantastic character. He isn't afraid to fail. In fact, he seeks out failure. Soma is constantly trying different combinations of foods and flavors just to see what happens, even if it's rather obvious that peanut butter and squid shouldn't be included in the same dish. Learning what not to do is just as important as learning what to do. Some of his best successes were initially born of failure. It's very difficult to think of any other character off the top of my head who is so completely unafraid of failure in quite the same way Soma is. Failure is not used in quite this manner very often, especially in most of the shonen titles I've read.
The classic tale of an underdog fighting it out with those better than him is spun a bit on its head here as well. Though obviously looked down upon by many of his fellow students, it's clear that Soma isn't really underdog by any means. Unbeknownst to him his father is a world class chef. Not only has he been taught by his father, but Soma also has the added benefit of cooking for real customers on a daily basis for most of his lift. There is an obvious dissonance, or what Soma feels is an obvious dissonance between top chefs cooking for one another and a chef cooking for the general public. What it does show is the stratification of class – those of wealth, of fame, those who are 'better', the gatekeepers of the field, versus a simpler boy with simpler foods.
Now, let's talk about the fan service.
This is the single manga that has the most over the top fan service laden scenes which are the most forgivable. First, the largely declothed, sexualized, surreal scenes when a characters take that first bite of delicious – or terrible – food are honestly very inclusive. Sure, there are plenty of beautiful, perfectly proportioned women. But the mangaka includes everyone whether they be beautiful women or fat, balding, middle aged men. That in itself is a breath of fresh air. But the way in which this is used is also very unique to this manga.
That said, the fan service in Food Wars! is something that will probably turn off a lot of people. If you don't like fan service or sexualized depictions, this probably isn't for you. For me, I really don't mind the fan service, especially because of the way it's used. I find myself rolling my eyes more at the fan service in something such as The Seven Deadly Sins as opposed to Food Wars!. But that's a discussion for another day.
The art in this manga is very clean. Backgrounds are rather simple. Scenes showing cooking or eating tend to have very plain or nonexistent backgrounds while scenes showing classes, for example, do have background imagery. Where the art stands out the most, however, is in its depictions of food. The way food is depicted is amazingly detailed. Shading and the play of light off of the dish is as close to perfect as it could ever be. The food looks absolutely beautiful in a way that few other manga manage.
While not the only food based manga available, Food Wars! is certainly the first one I've read. Food Wars! is a great manga with a very unique plot, that I enjoyed immensely. This is an amazing take on the shonen genre. You can be sure I'll be sticking around for more. Now I just have to catch up with all of the previously released volumes so I don't have to skip over these pages in Shonen Jump.