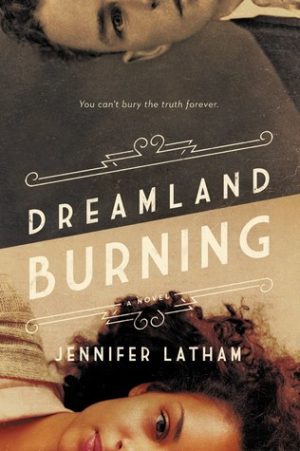 Dreamland Burning
By:
Jennifer Latham
Release Date:
February 21, 2017
Publisher:
Little, Brown Books for Young Readers
Rating:
It has been a long time since a book has struck me in the sort of way Dreamland Burning by Jennifer Latham struck me. It's the sort of book that is devoured, read with the sort of all-consuming fervor that makes a person look up bewildered when the phone rings, or wondering when exactly the sun set. I loved this book. This book is important. It matters.
The book opens in modern day Tulsa, Oklahoma where Rowan Chase's parents are renovating an old outbuilding on their property that once house the serving staff. When a body long hidden in the floorboards is discovered, Rowan and her best friend, James, try to discover who the person was and why they were killed when it becomes apparent that the local police aren't interested in a one hundred year old cold case.
Chapters alternate between Rowan Chase and Will Tillman, a seventeen year old boy living in a Tulsa rife with Jim Crow laws in the days directly before the race riots of 1921. Will's journey is one of self-discovery, of learning who he is, and what things really matter.
While I have certainly read my fair share of books with chapters that alternate in points of view, it remains a writing style that I find very hit or miss. Sometimes it works wonderfully. Other times it falls a little flat and feels largely unnecessary. Here, it works beautifully. One chapter flows into the next. The themes on race, on violence, and the overarching mystery of the body found in the floorboards is carried over wonderfully. It never felt forced or out of placed, issues which I normally have with books written in this manner.
I do have to admit that Will's chapters were much tenser than Rowan's. That isn't to say that Rowan didn't also face her own hardships – she did. But it simply cannot be helped that everything she goes through pales a bit in comparison to the events Will lives through. On top of that, we know that one character doesn't make it out alive because of the discovery of the body. Even though Rowan faces hardships of her own, those chapters felt less tense, less urgent, than Will's.
Will is the very definition of character development. He learns, grows, and undergoes great personal change throughout the course of the novel. The race riots encroach as the book continues. Tensions are high between the townsfolk. People's true natures are brought to the forefront, and Will is no exception to this. Will Tillman is a completely different person in the last chapter than he was in the first chapter. He is a good person. One with a regrets, maybe. One that didn't always make the right choices. But one who ultimately did what was right.
Every single aspect of this book wraps up nicely. Every loose end is tied up. Themes of racism explored in Will's sections are carried over to the modern day and explored in Rowan's section. The mystery of who was murdered and hidden away was of course concluded, but we also learn what happens to the other characters of Will's timeline, even if some of those histories are a bit cursory.
Dreamland Burning is a beautiful story with fantastic characters. It talks about at time and place that should be talked about. It tells a story that should be told. Jennifer Latham is a master of her craft, and I look forward to seeing what other works she may come out with in the future. I highly encourage everyone to read this book. It will not disappoint.