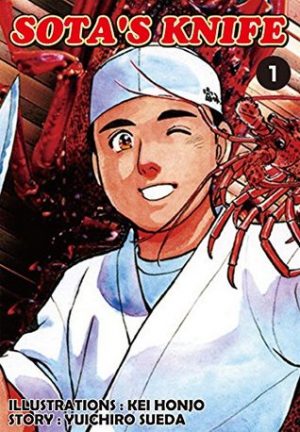 Sota's Knife Vol 1
By:
Yuichiro Sueda
Illustrator:
Kei Honjo
Release Date:
July 4, 2018
Publisher:
Jitsugyo no Nihon Sha, Ltd.
Received From:
Publisher
(All reviews are our own, honest opinions.)
Rating:
After reading Food Wars! and Space Battle Lunch Time, two extremely different food based stories, I've made it a point to seek out more food based manga and graphic novels. When I had a chance to read Sota's Knife Vol. 1 by Yuichiro Sueda and Kei Honjo I jumped on it. Sota's Knife is a wonderful manga about hard work, following your dreams, and food. Sota is a dishwasher at a restaurant run by a prominent chef. One day, Sota hopes to be just as good a cook as him, but for now he's at the bottom of the ladder trying to gain the skills he'll need to climb upward.
This manga was a delightful story featuring a very main character. Sota is a wonderful young man who wants nothing more than to be a great chef. After leaving his home in the country, Sota finds himself in the city, striving to learn more. Despite being a dishwasher he has great innate skills. But those skills remain uncultivated. Sota walks a fine line between being a dishwasher that happens to have some skills and a dream and a possible savant. Hard work has gotten Sota to where he is, even if it is only a position as a dishwasher, and a lot of hard work is still needed. The potential is there, though, for Sota to become a truly magnificent chef one day, and we are invited along on his journey.
A definite slice-of-life feel is present throughout the manga. While we follow Sota as he tries to hone his skills it isn't through anything as structured as, say, culinary school such as in Food Wars. Various people come into the restaurant, each with their own problems and hardships that must be faced. A lesson in food, cooking, or the feelings and comfort that cooking can bring is always learned. Some of these characters are recurring, others do not appear as frequently. Sota learns something from each of them, though, and not always in the ways one might think.
At 261 pages, this manga is quite a bit longer than many other single volumes. While it might have had a higher page count than some, it by no means felt too long. The pacing was very good, a nice blend of characters, events, and lessons combined with Sota trying new techniques. Characters are developed, albeit slowly. Relationships between the chefs and other characters change and grow. I really liked watching the chefs interact with one another and Sota. While they all strive for the same ultimate goal – to provide excellent food to customers – some of their viewpoints can be quite different.
The manga was illustrated by Kei Honjo, whose art work I loved. Background isn't always prolific, most notably when two characters are conversing. However, detail isn't something that is lacking. Sweeping city landscapes are filled with minute detail, making the scene feel alive and real. Food looks edible and delicious. Scenes at night are cloaked in shadows. Light spilling from windows creates a warm glow on the immediate surroundings while everything else is masked by shadows created with shading and thick line work. The art is beautiful, and I would read future volumes just for that.
I really enjoyed Sota's Knife Vol 1 by Yuichiro Sueda and Kei Honjo. It's definitely a series I would read more of, and I look forward to future volumes. It was a beautiful, quiet slice-of-life manga with a wonderful main character. If you like slice-of-life manga or manga set in a contemporary setting pick this one up.