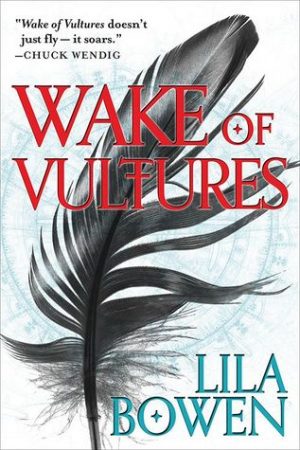 Wake of Vultures" class="review-title" target="_blank">Wake of Vultures
By:
Lila Bowen
Website:
http://www.whimsydark.com/
Release Date:
October 27th, 2015
Publisher:
Orbit
Series:
The Shadow, Book #1
Rating:
Lila Bowen's Wake of Vultures is a a wonderful YA fantasy with a truly unforgettable protagonist. It is a fantasy set in the western US. And I am very, very happy I picked up this book.
I'm just going to come right out and say it. Nettie Lonesome, protagonist of Wake of Vultures, is the most memorable protagonists in a young adult novel I've read since I devoured Tamora Peirce's novels as a child.
The story opens with Nettie Lonesome, a mixed race girl living with the family that adopted her, but would rather treat her like live in help than a daughter. After being attacked by a man seemingly immune to scythes but not chunks of wood, she can see … things. Things she doesn't really know how to explain. The world is filled with monsters, some of which really don't like Nettie very much.
The already hard life on ranches and little towns out west is made even more difficult by the supernatural, something Nettie is gifted with seeing. It's a gritty world, one with foundations in the Old West and western movies with a healthy dose of fantasy and the paranormal, along with Native American folklore and myth. The places are very real; the world jumps off the page.
Even better than Lila Bowen's world building are her characters. Nettie Lonesome is one of the best main character's I have ever come across. Nettie is a girl of mixed race, raised by a Caucasian family. She goes by several different names – Nettie Lonesome, Nat Lonesome, Rhett Hennessey – but always she remains her. Nettie's shifting names and shifting gender don't bother her at all. Nettie is who she says she is, remains unequivocally steadfast in her opinions, convictions, and morals. She is a strong character, one who has always relied on herself, and learns to rely on her friends. She doesn't allow little things such as let being the wrong gender stop her from being a rancher just like she always wanted.
Nettie's the kind of character you read about and say 'I want to be like her when I grow up', even if you already are grown up and have just about reached the age where maybe you don't want to say just how grown up you really are.
And yet, she has room for growth. Nettie isn't perfect. She doesn't really want anything to do with strange people who turn into black dust, nor any of the other monsters that keep attacking people close to her. But, eventually, she stops running, and faces fate head on.
Pick up this book. Right now. It's one of the best books I've read so far this year. You won't be disappointed.
Read If:
you like strong female protagonists, you enjoy westerns, you like fantasy set in the past

Don't Read If:
you dislike westerns, you like your fantasy with less paranormal elements and more elves and dragons