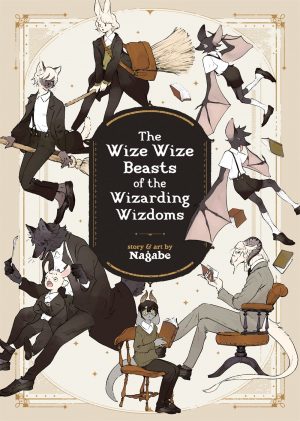 The Wize Wize Beasts of Wizardly Wizdoms
By:
Nagabe
Illustrator:
Nagabe; Karis Page (Lettering and Layout)
Translator:
Adrienne Beck
Release Date:
October 1, 2019
Publisher:
Seven Seas
Received From:
Publisher
(All reviews are our own, honest opinions.)
Rating:
Several chapter-long stories set in a wizarding school make up the new single volume manga The Wize Wize Beasts of the Wizarding Wizdoms by Nagabe, mangaka of the series The Girl from the Other Side: Siuil, A Run.
This manga consists of a single volume, with the majority of the stories taking place within a wizarding school for beast-men. Humans are largely considered a myth in this world, though one does appear within later chapters. This story isn't so much focused on magic as it is on relationships.
The majority of the stories are focused on two characters. Most often these characters are students who are attending the school, but professors make appearances as well. Throughout the stories some sort of crush or love is the central conflict. Some characters become couples. Some don't. Some never act on their feelings. Others act on them in all the wrong ways.
Chapters ranged from being very touching and memorable to outlining the more unhealthy ways relationships can begin or unfold. Two stories in particular struck me, but not in the more wholesome, warm fuzzies way others did. Some characters are downright unsavory and their actions less than stellar. This, of course, is the point. Not everyone approaches relationships in healthy ways, after all. However, the vast majority of the characters are both memorable and sweet with heartwarming and sometimes bittersweet outcomes to their plights.
Character's designs are both unique and memorable. The abilities and habits of the animals which characters are based on play heavily into their personalities, abilities, likes, and dislikes. Issues and conflicts arise naturally from this – traditional prey versus predator, being cold-blooded in the winter – and lend a unique twist on the complications of growing up, falling in love, and confessing (or not confessing) one's feelings.
This manga is, overall, a good read. The Wize Wize Beasts of the Wizarding Wizdoms by Nagabe is a single volume story that is definitely worth an afternoon.