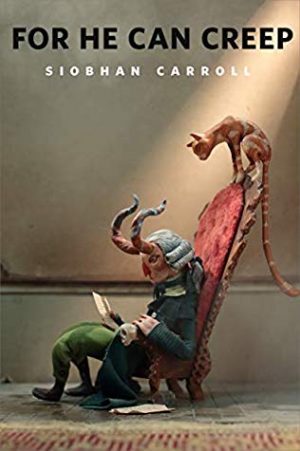 For He Can Creep
By:
Siobhan Carroll
Release Date:
July 10, 2019
Publisher:
Tor.com
Rating:
Recently released on Tor.com is a short story worth being shouted about from the rooftops. For He Can Creep by Siobhan Carroll, who's other short fiction can be found in many anthologies, can be read in its entirety for free on Tor.com. The tale is a short story set in an asylum in the 1700s told from the point of view of Jeoffry, the cat of a poet who was committed to the asylum some time before.
It is from Jeoffry's point of view that we hear our story. While Mr. Smith is confined to his room, Jeoffry has free run of the place. Jeoffry is quite the talented, clever cat, but the Devil can trick human and pet alike. When the Devil comes to barter with Jeoffry's human, he must do all he can to thwart the evil before him. Yet, the Devil is very clever, and Jeoffry is still cat. However, cats are not quite as prone to lamentation as their owners, and, perhaps, that's due to their claws.
The story is written in beautiful prose of a style that isn't quite modern and instead immediately conjures the time period in which the story takes places. Yet, it is not as inaccessible as some of the older classics can sometimes to feel to modern readers. Terminology remains largely modern, making this a very atmospheric but accessible tale.
Inspiration for the story comes from a short poem by Christopher Smart, which is acknowledged at the end of For He Can Creep. Smart, too, was committed to St. Luke's Hospital for Lunatics and, circa 1763, wrote a poem about his cat, Jeoffry. The way in which the poem was used as inspiration to craft this short story was wonderfully done. It brings to light a great poem many may not be aware of, and plays off of its theme, creating a story of its own, with extreme reverence and expertise.
For He Can Creep by Siobhan Carroll is a truly exceptional short story. Historical fiction, nods to history and poetry, and a healthy dose of fantasy are combined into a beautifully written tale.