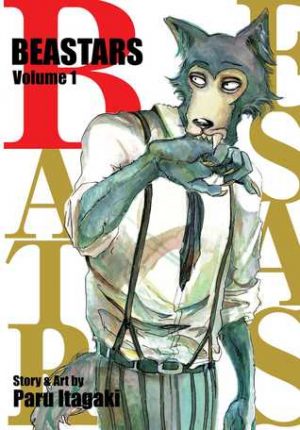 Beastars, Vol. 1
By:
Paru Itagaki
Illustrator:
Paru Itagaki (Illustrator); Susan Daigle-Leach (Touch-Up Art & Lettering)
Translator:
Tomoko Kimura (Tanslator); Annette Roman (Adaptation)
Release Date:
July 19, 2019
Publisher:
VIZ Media LLC
Series:
Beastars #1
Received From:
Publisher
(All reviews are our own, honest opinions.)
Rating:
Beastars is getting an anime adaptation set to release this Autumn, on October 10, 2019. This is the manga which began the series and who's adaptation will be shortly airing. Currently there are two volumes in print with a third set to release on November 19, 2019. Beastars, Vol. 1 is written and illustrated by Paru Itagaki. She is the daughter of Keisuke Itagaki, known for the manga and anime series Baki the Grappler.
This series was often billed to me (seemingly wrongly) as a love story, but the first volume didn't have this feeling at all. Beastars opens with a murder. An herbivore has been killed at a live-away school for beast-people. And it seems like it was done by a carnivore, not only a felony but a grevious taboo. Yet, the show must go on. Literally.
Legoshi is a carnivore, a wolf, and part of the theater group. The play they're about to put on is thrown into turmoil as one of their star actors was the herbivore who was killed. But that isn't the only issue at hand. The delicate politics between herbivores and carnivores in society is thrown into chaos by the murder. School life for Legoshi is harder than ever, with rumors, suspicion, and fear flying.
While this story certainly has the makings of a normal school life set in an otherworldly setting, it is much more than that. A good portion of the story indeed taken up by how the play will proceed, who will replace the deceased as an actor, and relationships between the cast. Yet, Beastars has much more to say about much larger topics – how biases affect relationships, how baseless fear and suspicion affect the individual and society at large.
The beast-people who make up this society are treated extremely realistically, in ways that aren't often explored in other works within the genre. The extreme, fairly racist divide between herbivores and carnivores. Snaller characters are in danger of being trampled by larger ones. And the resident goat has the bad habit of eating the play's script every time its handed to him. These balance the humorous, lighter side and the more serious, sometimes rather dark aspects of living in such a society.
The art reflects the subject matter extremely well. The beast-people are extremely well designed. Each character is well proportioned and very befitting of the species or subspecies they represent. Shading intensifies drastically in panels depicting tense situations. Nighttime, the empty school, and darker nature of carnivores evoke a real sense of fear.
Beastars, Vol. 1 by Paru Itagaki is a fantastic manga that took me by surprise. With strong themes and an interesting plot, this is certainly a manga to keep an eye on.