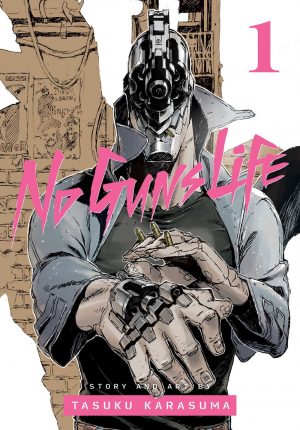 No Guns Life, Vol. 1
By:
Tasuku Karasuma
Illustrator:
Tasuku Karasuma (illustrations); Evan Walding (touch-up art & lettering)
Translator:
Joe Yamazaki
Release Date:
September 17, 2019
Publisher:
VIZ Media LLC
Series:
No Guns Life #1
Received From:
Publisher
(All reviews are our own, honest opinions.)
Rating:
No Guns Life, Vol. 1 by Tasuku Karasuma is a seinen science fiction manga which has an anime adaptation airing this season, Fall 2019. In a future world, some humans have become the extended, people augmented with mechanical body parts which greatly increase their physical abilities. Juzo Inui is one of the extended, with a gun in place of a head. He is a Resolver, solving conflicts between the extended and regular humans.
The story centers around Inui and an extended who comes looking for his help. The situation is unlike any he's faced before – his employer isn't all he claims to be, the enemy is a powerful one, and things go from complicated to 'oh shit' rather quickly.
Despite being very inhuman looking visually, Inui is a character that is quite easy to like. He's rough, hard, but seems to care more than he wants to let on. Similarly, the extended who seeks his help is also a character who is quite easily likeable and much more than meets the eye.
A dark, gritty world is portrayed within these pages. Shadowy streets and the underbelly of society are portrayed here. The Resolvers world isn't one spent in the light. We don't see the wholesome, life-changing ways in which this future society must help at least some humans. We see the darker side of it, and those who step in smooth issues over, and, sometimes unwillingly, to change it.
The art here is extremely distinctive. Characters most definitely pass the silhouette test. Many sport wild, fantastical mechanical implementations that change their appearance in ways other manga in similar genres don't. Yet, it is the perspective which is the most awe-inspiring aspect of the art. The way perspective is used make the extended character look larger than life and inhuman, while the city makes the reader feel extremely small and insignificant.
There are times when action scenes were a bit easier to follow through dialogue than art alone. Characters are sometimes splayed across multiple panels, with the art going more for style than a play-by-play showcasing each detail of the action. This fits well for the style and story told, though some readers may find it a little more difficult to get used to in early chapters.
Quite an interesting story is unfolding within No Guns Life. Characters are interesting, the world very unique. No Guns Life, Vol. 1 by Tasuku Karasuma is a series I will most definitely be following, and an anime I will most certainly be seeking out.