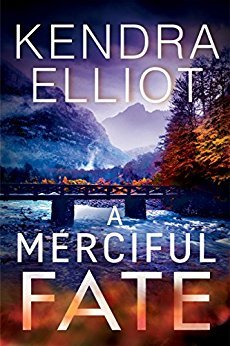 A Merciful Fate(Mercy Kilpatrick #5)
By:
Kendra Elliot
Website:
https://www.kendraelliot.com/home/
Release Date:
January 15th, 2019
Publisher:
Montlake Romance
Series:
Mercy Kilpatrick
Rating:
Book number five is here and I'm so glad to have read it and be able to tell everyone about it. Again we walk the line of talking about how amazing a story is without offering spoilers but, bear with me, I am going to try and offer enough of a review without telling you major plot points.
In this book skeletal remains are found and are believed to be linked to an armed robbery over thirty years ago. Apparently, someone in the group of criminals didn't make it out alive. Now, in an effort to identify the dead and find the killer decades old wounds are being opened and everyone is on edge.
The bones aren't the only issue in Eagle's Nest as women are being harassed by a vandal and both Mercy and Truman are working to solve the cases before more violence can occur. Unfortunately they aren't fast enough and some do pay a high price for what is going on in the town.
I have to say that I disagree with other reviewers on the internet when they say you can read these stories alone. Of course you can, technically, but you would miss out on a lot of the ingrained tension and character connectivity if you were to skip. So, simply put, read the series and thank me later.