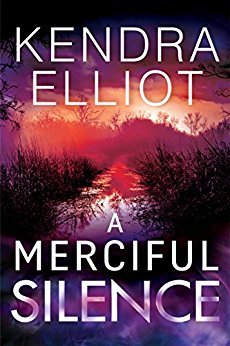 A Merciful Silence(Mercy Kilpatrick #4)
By:
Kendra Elliot
Website:
https://www.kendraelliot.com/home/
Release Date:
June 19th, 2018
Publisher:
Montlake Romance
Series:
Mercy Kilpatrick
Rating:
Well here we are again, hanging out with Mercy Kilpatrick and bowing down at Kendra Elliot's feet. If you don't like romantic suspense I'm not sure why you're checking out a review for book number four in a romantic suspense series so I have to assume you're here for the same reason I am. Mercy Kilpatrick is a certified bad ass and you want to know more about her life and this book about her continued character arc.
This book falls closer to the mystery mark than the romance but we still do get to see Mercy's continued romance with Truman. That is definitely overshadowed in a sense when five skulls are found and the crime relates back to a series of attacks from twenty years ago. The catch? Someone went to jail for those attacks so how are five more skulls being found?
We are also gifted with the reminder that Mercy and Truman's work isn't easy as the small town, while having all the tight-lipped nature that small towns have, is also filled with Sovereign Citizens that don't like cooperating with the government or police, even if it means catching a killer and keeping their town safe.
One thing I adore about Kendra Elliot, other than her fantastic chracters and twisting plots is that she isn't pretentious in her writing. She knows the genre she is working in and has embraced it fully but that doesn't stop her from dropping amazing lines of truth in her works, some so profound that I need to stop and write them down elsewhere as a reminder to myself.
"There are no truly helpful words. But everyone feels the need to say something. She knew the words were more for the person speaking than for her. Human nature compelled others to offer comfort, making them feel as if they had helped, done something. Inside she wanted to hit everyone."
This book keeps the pace going and I'm so glad that there are more books to this series. I wasn't quite ready to give up Mercy yet.